Between
(2006)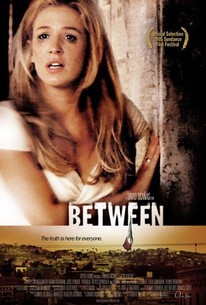 Movie Info
Informed by a Chicago police detective that her sister Diane has recently gone missing in Tijuana, Mexico, successful lawyer Nadine Roberts (Poppy Montgomery) travels south of the border on a desperate mission to locate her lost sibling, and instead finds her sanity slipping amidst an unsetting series of strange circumstances. Immediately after learning that her sister has disappeared, Nadine informs her husband James (Adam Kaufman) that she will be leaving for Mexico, and will not return until she discovers what fate befell Diane. While Tijuana Detective Campos (Jose Yenque) is adamant that Nadine return home immediately and leave the search to the authorities, she outwardly rejects his advice -- instead choosing to navigate the labyrinthine streets with instinct as her only guide. Later, after waking in a strange hotel room, Nadine has a series of bizarre run-ins with such mysterious figures as idiosyncratic hotel clerk Victor (Danny Pino) and enigmatic Old Tijuana matriarch Mrs. Gonzalez (Patricia Reyes Spindola). Driven near the point of insanity due to the indecipherable language spoken by Victor and Mrs. Gonzalez, Nadine is momentarily snapped back to reality due to the surprise appearance of her husband James. But no one can be trusted when the only thing dividing dreams from reality is a single, spare thread, and now Nadine is about to discover what really lies in that mysterious zone between life and death.
Critic Reviews for Between
All Critics (5) | Fresh (0) | Rotten (5)
It's not only unoriginal, but it's a ham-fisted attempt to re-use unoriginal materials.
The film is so derivative and riddled with holes that it has the look of a terminal cancer patient. Someone should have put it out of its misery.
Like a porno movie without any porn whatsoever, but with all the awful acting.
Audience Reviews
There are no featured reviews for Between at this time.
Between Quotes
There are no approved quotes yet for this movie.