Beverly Hills Cop II
(1987)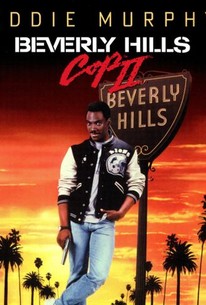 Beverly Hills Cop II Videos
Beverly Hills Cop II Photos
Movie Info
The young black cop from Detroit is still on vacation in Beverly Hills. In this sequel to the 1984 original, he is attempting to find the mastermind of a series of violent robberies in spite of a mean-spirited Chief of Police..
News & Interviews for Beverly Hills Cop II
Critic Reviews for Beverly Hills Cop II
Audience Reviews for Beverly Hills Cop II
½
When it comes to making sequels, the standard approach in Hollywood is to offer more of the same. Sometimes this is just a case of retaining the same actors, writer or director, but a lot of the time there is a conscious effort not only to match the spirit of the original, but its story too. There are exceptions to this rule like any other, but for every sequel that attempts a break (like Indiana Jones and the Temple of Doom) there's at least a dozen which just copy their predecessor (such as The Hangover Part II). Beverly Hills Cop II is perhaps the most blatant example of 'more of the same' in the whole of the 1980s. If the original film was Simpson and Bruckheimer at their simplest, this is them at their most lazy and cynical. Everything that can be recycled is recycled, so that beat for beat and plot point for plot point, there is almost nothing between the two films. But throw in bigger explosions, more sleaze and flashier direction from Tony Scott, and you end up with a film that is not just boring, but aggressively boring. As with the first film, it's not as though the plot of BHC II was entirely without potential. Many of its props or character arcs are well-worn staples of each crime thrillers or procedural dramas, and with so many of them around you'd think at least one of them would serve as a springboard into something interesting. The Pink Panther series began with a monogrammed glove and went off in several unexpected directions, and considering the budget involved you'd think they would work hard to justify having these conventions. But just like the original, the plot we get is simultaneously asinine and convoluted - only now it comes with added contempt for the audience. The central heist plot has enough twists and turns to give Heat a run for its money, but all the essential details are either mentioned and then thrown aside or explained in such idiotic detail that they may have well not have bothered. None of the props, costumes, sets or music cues are in anyway bespoke to the story or situation; the screen is simply full of stuff, and more keeps being added to hide the fact that the story isn't being told very well. Much of this stems from the fact that the story is essentially a series of improvisations by Eddie Murphy. While Martin Brest knew the original screenplay wasn't great and allowed Murphy to improvise in the hope of correcting this, Murphy had a hand in the original screenplay for BHC II. In each case it feels like an acting exercise, in which Tony Scott gives his actors a start point and end point, turns on the camera and waits for Murphy to do something funny. Sometimes he hits the mark, but even when he does he quickly oversteps because there is no-one reining him in or cutting him off. BHC II copies all the major beats from its predecessor, as though the script had been photocopied and then the characters' names had been altered with felt tip. It takes all of 15 minutes for Axel to get back to Beverly Hills, right after another argument with Todd and another encounter with his inept assistant, this time over a Ferrari. Taggart and Rosewood haven't changed, save for the latter becoming a gun nut for no good reason - they still spend all their time reluctantly following Axel and hiding from their superiors. Axel makes enquiries, which involve him gate-crashing multiple properties, bending the law as he sees fit and compulsively lying even to his seeming friends. Ronny Cox is out of the picture for the most part, but he's replaced by another loud-mouthed cop, so it makes no difference. We get a scene in a strip club with a series of bad jokes about Taggart, and it all comes to a head in a warehouse shootout. Listing these scenes gives a good idea of how repetitive and formulaic the plot is. It's also incredibly episodic, perhaps resulting from the project originally being intended as a TV series. But being formulaic in and of itself would not be enough to produce a bad film: it would only make it as bad (or good) as the original. What tips BHC II over from an ordinary film to a bad one is a series of mean-spirited additional features, all of which work to the detriment of both the comedy and the action. For starters, the film is a lot sleazier than the original. In the first film the strip club scene had something of a point: it was a set-up for one of many jokes about Axel, Rosewood and Taggart trying to cover their tracks with elaborate lies. But this time around far less effort is made to connect the events that transpire in the club to the wider plot. There's an unfunny gag about Taggart's (non-)resemblance to former President Gerald Ford, and then the film just stops for longer sections of completely needless nudity. It's not just the strip club scene that's the problem. Lisa Eilbacher wasn't dealt a great hand in the first film, but the film at least treated her character with respect, allowing her to be somewhat independent and resourceful. By contrast, Brigitte Nielsen is constantly ogled by the camera, from the opening shot of her skirt as she gets out of the car to the numerous shots of her backside during the robberies. And then there's the Playboy party, with a very uncomfortable cameo by Hugh Hefner himself. In each case, the film is pitching itself far more aggressively towards horny teenage boys, to the point where it no longer knows or cares what these scenes have to do with the story. In his one-star review from 1987, Roger Ebert remarked: "What is comedy? That's a pretty basic question, I know, but Beverly Hills Cop II never thought to ask it." For all the room given to Murphy to improvise, and for all the talent of the performers, the film just isn't funny. Because we can spot all the beats so readily, we're anticipating the same jokes as there were in the first film, jokes that weren't all that hilarious the first time round. Having failed to make us laugh at the same joke twice, the film just stands there desperately waiting for us to laugh, and when we don't it, just throws more stuff at us in the hope that we won't get bored. One of the big reasons why BHC II isn't funny lies in the character of Axel Foley. In the first film he had an appeal, an interesting quality that made him stand out - namely his tendency to go way above the law and get away with it. But what was a novelty in the first film has mutated into something more obnoxious, with Axel changing from a loose cannon whose ends justified the means to an aggressive, headstrong, utterly unlikeable maverick. Murphy is still charismatic, but it's a mean-spirited charisma that runs roughshod over his attempts to be charming. The performers around Murphy don't do much better with the material. Judge Reinhold gets a couple of funny badass moments, as the guns become larger and greater in number, but he still spends most of his time staring gormlessly just off screen. John Ashton and Ronny Cox both look secretly ashamed to be on board, which would explain both their muted roles here and their absence from the final film. None of the villains make any real impression, with both Nielsen and Jürgen Prochnow both phoning in their performances. Even Gilbert Gottfried, so often memorable for the wrong reasons, is forgettable in his cameo role. In the face of all this narrative and comedic inertia, all that BHC II has to offer is the bigger explosions and slightly higher production values that come from the marginally bigger budget. Just like on Top Gun the year before, Scott is let loose and fills the screen with flashy spectacle and carnage that has little or no emotional weight or consequence. The action scenes are technically competent but they lack any real stakes, and while the stunts are well-choreographed (particularly the car chases) they aren't memorable in their own right. Tony Scott was always a much weaker visuals artist and storyteller than his brother Ridley, and this film is further proof of that. Beverly Hills Cop II is an aggressively tedious sequel which copies the plot of the original and then piles on multiple problems to further dampen the experience. Whatever energy or distinctive quality the original had has largely been lost, resulting in an action comedy that is neither funny nor possessing memorable action. Most of all, it feels completely surplus to requirement, having no real reason to exist and no real desire to justify itself.
Daniel Mumby
Super Reviewer
Although its much sillier than its more memorable predecessor, this is a funny sequel with a charismatic performance from Murphy with good slapstick and the occassional moment of wit.
Directors Cat
Super Reviewer
½
Wow, there are more cuts in the first ten minutes of this movie than their are in all of the first film. And that's not a bad thing, Tony Scott turns up the style and the crazy in this very watchable sequel to the very popular original. It's shot better than the first, but the script isn't as good. Eddie Murphy does that stupid laugh too many times too,
Ken Stachnik
Super Reviewer
Beverly Hills Cop II Quotes
| | |
| --- | --- |
| Axel Foley: | man,i didn't steal this house.its my uncles |
| Axel Foley: | Man, I didn't steal this house. It's my uncles. |