Warnung vor einer Heiligen Nutte (Beware of a Holy Whore)
(1971)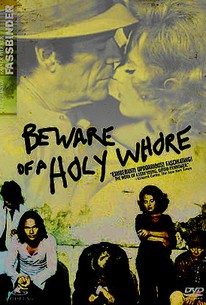 Movie Info
This film by wunderkind Rainer Werner Fassbinder, his 10th, is one of the rare films about filmmaking which was said by the critics to have succeeded both technically and as drama. In it, a German film crew sits in their Italian hotel, waiting for the arrival of their director (Lou Castel), their star (Eddie Constantine) and more money. While they wait, argue, complain, and enter and leave romances, the delusions of a whole community of filmmakers are humorously unveiled. This film is said to be a scathing and satirical self-criticism by Fassbinder of his own methods and of his colleagues and entourage. ~ Clarke Fountain, Rovi
Critic Reviews for Warnung vor einer Heiligen Nutte (Beware of a Holy Whore)
Audience Reviews for Warnung vor einer Heiligen Nutte (Beware of a Holy Whore)
Fassbinder decides to go meta. It doesn't work.
Marcus Woolcott
Super Reviewer
½
This Fassbinder film involves an almost complete film crew which is filled with snobs and queers. It wasn't a group I'd like to spend time with, but one that's fascinating to watch. While watching one can wonder if this was the film that inspired the casting for The Jersey Shore. The movie lives up to its title, which is what lured me in. Beware of a Holy Whore is no Surf Nazis Must Die, in which the title is superior to the film. The movie is stunning and gorgeous. The cinematographer Ballhaus (who's worked with Scorsese many times) did a good job on this film, but I hate the zoom ins on the faces. The acting was spot on and almost flawless, characters were consistent with themselves. I was expecting an orge throughout this whole film, I won't spoil if this happened or not.
Daniel Dolgin
Super Reviewer
½
Fassbinder's (self-?)parody gets a bit monotonous after a while & feels forced & too obvious at times but overall the whole thing works somehow, Fassbinder & Castel are fun to watch
Warnung vor einer Heiligen Nutte (Beware of a Holy Whore) Quotes
There are no approved quotes yet for this movie.