The Beyond (...E tu vivrai nel terrore! L'aldilà)
(1981)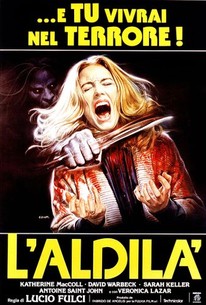 Movie Info
A young woman inherits an old hotel in Louisiana where after a series of supernatural 'accidents', she learns that the building was built over one of the entrances to Hell.
Critic Reviews for The Beyond (...E tu vivrai nel terrore! L'aldilà)
Audience Reviews for The Beyond (...E tu vivrai nel terrore! L'aldilà)
It can be amusing for those who love gore and fun special effects, but Fulci must have been completely stoned when he made this ridiculous movie that doesn't make any sense at all (who cares about plot, right?) and is only a bafflingly stupid mess full of awful performances.
Carlos Magalhães
Super Reviewer
½
"The Beyond" is a slightly plot-less, surrealist, and frightfully gory horror film that remains cult to this day, and for good reason. For a film that doesn't have much plot, and dives between characters without building them up to take the blows, there's a lot that remains memorable and entertaining about this Lucio Fulci classic. It deals with a lot of horror staples and expands on traditionally taboo topics such as extreme gore and killing innocent characters. The characters in this film are pretty forgettable and one dimensional in personality, though Emily the blind girl does stand out, not for her character, but what she means to the overall storyline. Little is explained in the film, as the director wanted, so it's not clear where Emily came from, what her connection is to the hotel, and why she is blind, but there are clues, scattered around the film that vaguely answer some of our questions. That and her dreadfully mangled eyes stand as a symbol for the rest of the film, gracing the movie poster as well as most film stills. The story remains fragmented because Fulci throws in a lot of different horror staples including haunted house, zombies, a doorway to hell, and gore upon gore. The zombies were added because the distributor noticed that there was a zombie trend at the time, similar to nowadays. Raising the dead via curse, and using a doorway to hell under the hotel was an interesting expansion of zombie lore up to that point, and further raises questions such as: Why do only some people get raised in the beginning but at the end all corpses rise? Why are people going blind? Does it have anything to do with the ending, which it seems to emulate? Not everything is cut and dry, and that's something horror films of today can learn from. Exposition is tirelessly thrown in to explain why things are happening nowadays. This film may be vague, but it lineated in plot and carefully imagined its visuals and gore. The gore scenes do stretch way too long in some instances, especially the tarantula scene, and the characters are no good, but everything else made this film a classic cult film.
Spencer S.
Super Reviewer
½
I got pretty confused watching this movie, but maybe I should have tried to pay a little more attention or something. It seemed like a mystery, then a satanic movie, and then it turned into a zombie flick. There was a lot of good blood and gore, at least, that was the best part, it was really gross and mesmerizing. If you watch this, or have seen Fulci's other films, you know what I mean.
The Beyond (...E tu vivrai nel terrore! L'aldilà) Quotes
There are no approved quotes yet for this movie.