Beyond Loch Ness
(2008)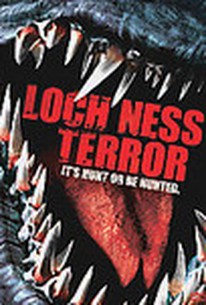 AUDIENCE SCORE
Critic Consensus: No consensus yet.
Movie Info
A cryptozoologist in search of the infamous Loch Ness monster discovers that the malevolent, forty-foot long reptile from Scotland has traveled to Lake Superior via an elaborate series of subterranean tunnels, and that she's brought her hungry offspring along for a feeding frenzy. The once calm towns surrounding of Lake Superior will never be the same again, because when after the locals realize the horror that has been unleashed upon them no one will dare set foot in the water. Only one man has ever survived an encounter with old Nessie, and that's James Murphy (Brian Krause). Murphy knows Nessie like no one else, and he's determined to hunt down the mysterious creature and exact brutal vengeance. Will Murphy survive his second encounter with Nessie and her brood, or will the citizens around Lake Superior become little more than food for a beast thats time has finally come. ~ Jason Buchanan, Rovi
Critic Reviews for Beyond Loch Ness
There are no critic reviews yet for Beyond Loch Ness. Keep checking Rotten Tomatoes for updates!
Audience Reviews for Beyond Loch Ness
One of SyFy's best sea creature flicks. Very enjoyable.
Jacob Palacio
Super Reviewer
½
After an Immaculate conception, Miss Ness moves to America to have her kiddies. The monster is killing everything she sees as she is protecting her babies. But a-ha in comes a noted cryptozoologist (is that a word?) to rescue. This movie had some action, but it stinks as a movie. Not logical at all, and the teenagers kissing at the end was so inappropriate.
½
Tired of chewing down overweight, heroin filled Scotsmen, the Loch Ness Monster decides to take a little vacation in America. After a fantastic and incredibly moving back story we are shoved into generic situation after generic situation. However I would be mightily pissed if it did try anything new. These creature features are like those old painting books where you just used water. You really have no control creatively and they take no talent. But I used to enjoy them. So the CGI is pretty nice for something that should be so poor, but what really destroys the illusion is the constant swapping back and forth between CGI monster and puppets. They're a completely different colour and shape for crying out loud. One must also praise the cinematic symmetry between the "monster" and "hero". The latter's only satisfaction can come from becoming the monster himself and committing the exact sin that the monster committed all those years ago. However since he plans on wiping out the entire family he is sparing the monster from the pain he has suffered. Not only is it gratifying but also he shows mercy. It all ends with a classic monster movie ending of "Well everybody we cared about is dead, but that doesn't mean we can't end on a joke".
Luke Baldock
Super Reviewer
Beyond Loch Ness Quotes
There are no approved quotes yet for this movie.