Beyond the Darkness (Buio Omega)
(1984)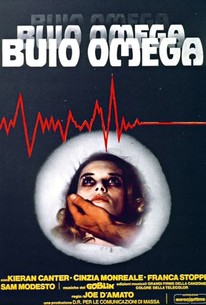 AUDIENCE SCORE
Critic Consensus: No consensus yet.
Beyond the Darkness (Buio Omega) Photos
Movie Info
Trapped between worlds! US senator Jonah Thomas is forced into an epic battle fought somewhere between life and death, heaven and hell. While government agents and terrorist fight for his life in one world, angels and demons wage war for his soul in another. Will he learn the truth and find his way home before it's too late?
Critic Reviews for Beyond the Darkness (Buio Omega)
There are no critic reviews yet for Beyond the Darkness (Buio Omega). Keep checking Rotten Tomatoes for updates!
Audience Reviews for Beyond the Darkness (Buio Omega)
A disappointing feature from D'Amato, Bui Omega is a necrophiliac erotic horror film about a rich taxidermist who kills women he found near his house and his jealous housekeeper who may or may not aid him. Other than a lot of body parts, Buio Omega offers no real horror and a dull storyline.
Sylvester Kuo
Super Reviewer
An odd but reasonably decent piece of Italian trash-horror where a young grieving taxidermist exhumes the body of his deceased fiance and preserves her body at home killing anyone who threatens to discover his secret. A good attention span is required to enjoy the best of this one as it does move along pretty slowly with little dialogue either along the way. But staying the distance will reward the gorehound with a few gross and bloody moments of violence and the perves will enjoy Joe D'Amato's trademark sleazy touches... though a little toned down in this one. For a slightly better take on a similar story check out Lamberto Bava's Macabre.
½
3.2/10 "Beyond the Darkness", also known as "Buio Omega", or perhaps even "The Final Darkness" (whatever, just call it one of the three) is a lazy Italian gore flick that has about as much appeal as a heartfelt drama to a horror fan, and about as much brains as an exploitation/sleaze flick should be expected to have. I like horror movies, and I sometimes enjoy exploitation films (the self-aware kind), so I decided to check it out. Who knows, I thought: maybe it will be yet another stylish and entertaining Italian horror film to add to my horror collection. I was open-minded and ever-so-ready to be entertained. And in the end, one side of me was, and one side of me was not. This is nothing more than an obscure shock flick that pretty much landed itself the reputation that it has today; if it even has a reputation. I found out about the film through one of my favorite bands, Goblin; who scored the film. They did a good job, and I knew that before I even watched the damn movie. But not even a stylized, awesome film score can save an underdeveloped plot with one-dimensional characters. Long story short, the stupidity takes the fun factor down a significant notch. A jealous house-keeper kills a middle-aged orphan's wife with a voodoo doll; thus making it appear as if the death was induced by illness. The husband cares not about how his wife died; he just cares that she's dead, and that he will never be able to love again. He brings the dead corpse home with him on the night of the burial, which leads to the start of something new and rather sick. He takes out the organs, and sets his dead wife on the bed. He has preserved her, and she will always be with him; or perhaps it's the other way around. Anyways, the man spirals downwards into psychotic rage; killing every man or woman that dares set foot near him. He seduces and kills; those are his two combined methods. The house-keeper decides to help him, in hopes of comforting him and taking him for herself one day. I'm not so sure that this approach is going to work so well, considering the real movie psychos are rarely deceived or deluded by women. Oh, but the character in "Buio Omega" is not a real movie psycho. In fact, he's a real sorry excuse for one. The film was, like many other Italian horror films both before and after it, written for the sake of drawing in an audience. The plot is full of holes, and never cares to touch on why this guy is going to howling mad. What people go for, and what the filmmaker made the movie for, is for the gore scenes. People are bitten, chopped up, dissected, and beheaded. If that's your kind of thing, then come on in: the cinematic slaughterhouse is unquestionably open for business. But me, I want a story, or a style, when it comes to my horror films. This movie does not have either. It's basically a mix-match of kills and disturbing behavior meant to provoke a disturbed and uneasy reaction out of the audience. This is definitely a shocking, repulsive film; although thankfully, it's still (sort of) watchable. On the bright side, it just doesn't have the kind of off-putting scenes found in shit like "The New York Ripper". Both movies are still worth staying away from, that is, unless you get off to the presence of blood dripping and flesh ripping. But no matter how you look at it, fun exploitation flick or not, this is just bad, bad, bad; poorly acted crap that tries to be stylish, and has the poster of a surrealist film; but fails to be either, ultimately. I can't imagine what reasons I could ever give for one to see it, because as of now, I'm feeling rather cynical. But it's not like my reaction to this film was chosen.
Ryan Marshall
Super Reviewer
Beyond the Darkness (Buio Omega) Quotes
There are no approved quotes yet for this movie.