Beyond the Rocks
(1922)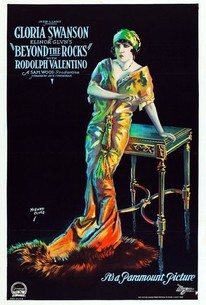 Movie Info
In this romantic melodrama, a beautiful young gold digger (Gloria Swanson) marries a much older man for his wealth and then falls in love with a handsome adventurer (Rudolph Valentino). The affair quickly heats up and before it goes too far the woman realizes her errant ways and decides to return to her husband. She then writes each man a letter explaining her decision. Unfortunately before they are delivered, a jealous woman steals them and switches the contents. The husband is so shocked and upset that he goes on safari to Africa. Both Swanson and Valentino follow him to beg forgiveness. They arrive just as her husband, whose party was attacked by outlaws, lay dying. Before he expires, he gives the lovers his blessings.
Critic Reviews for Beyond the Rocks
Audience Reviews for Beyond the Rocks
½
Another recently discovered and restored silent picture. There are a few scenes that are beyond restoration and the chemically disintegrating film becomes visible in splotches. There is an informative Dutch documentary about the restoration on the DVD. Evidently it was not the norm for two stars of such magnitude to co-star in a film at this time, but Gloria Swanson and Rudolph Valentino did for this romance. This movie was also based on an Elinor Glyn novel. Theodora Fitzgerald (Swanson) is pushed to marry an old millionaire by her step-sisters so the family will be financially comfortable. Her father (Francis) says she can refuse, but for his sake she agrees to marry Josiah Brown (Bolder). From their small seaside English town Josiah and Theodora travel to the mountains in Switzerland and fancy hotels in Paris. Fate keeps throwing Theodora and Lord Hector Bracondale (Valentino) together since Theodora's new husband is not a young or active man. This is the sort of trashy story that Glyn wrote, the young couple fall in love, but in order for them to be together, she must be unfaithful to her marriage. A handful of other supporting characters make appearances and these wealthy society people hop around Europe without much concern. The scenery and lifestyle are intriguing to observe nevertheless. Later in the plot a jealous woman switches letters that Theodora writes to Josiah and Hector. With their secret found out, Josiah decides to make the dangerous trip to Northern Africa for an archeological expedition. Theodora, her father, and Hector rush to try to find Josiah before it is too late. Romantic intrigue played between two worldwide celebrities of their day caused this movie to be a big success.
Byron Brubaker
Super Reviewer
A lost film in the annuls of history, Beyond the Rocks was found, restored, and subtitled for the enjoyment of the masses. Sadly, my enjoyment was quelmed by the lackluster equivalent to my wildest fantasies. I do give creedence in every aspect that I can: the loss of sound, the loss in quality over the last 90 years, the overacting, the extravagant costuming, and the difference in movies today. I can forgive all of these things, look past them, and survey the quality of the actual film. Those things said, it was bad. It was gruesome. Written by shockster Elinor Glyn and directed by De Mille protege Sam Wood, the plot was shamelessly boring. I do give kudos to the angle of her deep devotion to her rich, ugly husband though she was in love with the aristocratic Valentino, who she shared magically dramatic chemistry with. Still, Swanson's future work is filled with much more intelligent films.
Spencer S.
Super Reviewer
An average romantic drama with nothing new to offer. I'd only recommend it to fans of Swanson and/or Valentino. Overall it isn't bad, it's just not good either. There are a couple of exciting scenes but that's it.
Beyond the Rocks Quotes
There are no approved quotes yet for this movie.