Bhowani Junction
(1956)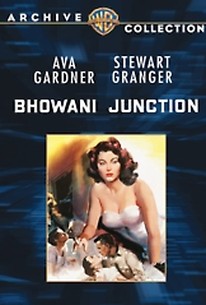 Movie Info
Ava Gardner was never more alluring than as the half-caste heroine of Bhowani Junction. Set during India's battle for independence from Britain, the film begins with Gardner returning to her native land after spending several years in England. Her true loyalties, and her own sense of who she really is, are put to the test by the two men in her life: Stewart Granger, whose job it is to prevent saboteurs from destroying the trains at Bhowani Junction, and Bill Travers, another half-caste. When she kills a potential rapist in self-defense, Gardner is given comfort by Communist insurrectionist Peter Illing, further dividing her fidelities. A climactic attempt on the life of Mahatma Gandhi provides a rousing finish to this romantic melodrama. Bhowani Junction was adapted from the novel by John Masters. ~ Hal Erickson, Rovi
Critic Reviews for Bhowani Junction
Audience Reviews for Bhowani Junction
½
"Bhowani Junction" starts with General Savage(Stewart Granger) and Victoria Jones(Ava Gardner) having an emotional farewell at a train station in India in 1947. On the train ride to Calcutta, Savage explains to General Ackerby(Ronald Adam) how they came to be together, starting with a railroad strike when he extended her service as a WAC. The Communists use that peaceful disruption as a way of stealing a train load of dynamite. For its time, "Bhowani Junction" is a sensitive and nuanced look at India at indpendepence with a particular respect for the non-violent protests.(I remember a history teacher mentioning the trick involving the untouchables. I hope this isn't where he got it from.) Of particular interest is Govindaswami's(Marne Maitland) statement about missing the British which is beautifully dripping with sarcasm. Plus, the movie seeks to explore identity in such complicated times and even takes a couple of shots at sexism. Granted, this was made at the height of the Cold War, so of course the Communists get to be the baddies, with a couple of performances out of the Raymond Massey school of melodramatic evil acting, but with no mention of the bloody mess that partition would soon make of the subcontinent.
Bhowani Junction Quotes
There are no approved quotes yet for this movie.