Big
(1988)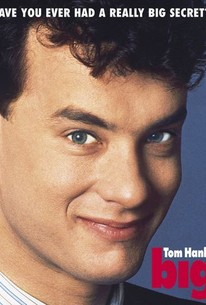 TOMATOMETER
AUDIENCE SCORE
Critic Consensus: Refreshingly sweet and undeniably funny, Big is a showcase for Tom Hanks, who dives into his role and infuses it with charm and surprising poignancy.
Movie Info
More than anything else, 13-year old New Jerseyite Josh (David Moscow) wants to be "big". That's the wish he makes at an odd-looking amusement pier fortunetelling machine. The next morning, Josh wakes up-only to discover that he's grown to manhood overnight! (At this point, the part is taken over by Tom Hanks). Still a 13-year-old mentally and emotionally, Josh decides to hide out in New York City until he can figure out what to do next. He lucks into a job with a major toy company run by kid-at-heart McMillan (Robert Loggia). By cannily bringing a child's eye view to McMillan's business, Josh rises to the top-and in process, he falls in love with fellow employee Susan (Elizabeth Perkins). But he's still a kid, and he'd like to go back to his own world and own body. Written by Gary Ross and Anne Spielberg, Big proved a crucial success for budding director Penny Marshall, who'd work harmoniously with Hanks again on the radically different A League of Their Own. The cinematography was by Barry Sonenfeld, who went on to become a director himself with The Addams Family. That Big was heavily reliant upon the input of Tom Hanks and Penny Marshall was proven by the failed attempt to turn the property into a Broadway musical. ~ Hal Erickson, Rovi
Audience Reviews for Big
½
A thirteen-year-old boy wishes to be big, and his wish comes true. Except there's no time travel element, which really sticks in my craw. This kidult immediately lands a job in the big city and masquerades as a genius toy titan for an entire month? A thirty-something woman has sex with a pre-pubescent? The floor piano scene IS really cute, but was 1989 just a slow enough talent year for Tom Hanks to be Oscar-nominated for his perfectly ordinary performance?
Alice Shen
Super Reviewer
Big is a pretty good film that I enjoyed, but I felt it wasn't as good as what everyone has said about. The film is good for what it is, but it leaves a lot of room for improvement. I enjoyed Tom Hanks in the film, but he has made far better films later on in his career. The film is pretty funny, but it could have been improved upon in some areas. The cast do a fine job and there is enough good humor to make this film worth watching. At times the film is cheesy, but overall it is a fun and entertaining film that has lots to offer. Although it is far from being the masterpiece that critics have claimed it to be. Tom Hanks is good in his role, but he has starred in better movies. Big has heart, and it's something that lacks in many of today's movies. Of course the film is not without its flaws, but it overcomes them by being an amusing film that viewers of all ages can enjoy. If you want to watch one of Tom Hanks earlier hits, then Big is the one to watch. Like I said, I found some parts to be a bit corny, but overall, the story and cast make it enjoyable and there are enough good gags to make it worthwhile. The film has enough memorable moments top make it a stand out comedy that will entertain you from start to finish. Although far from perfect, I really enjoyed the film for what it was and it is charming despite it being a bit silly, but in the end that's the point. After all it's a 12 year old trapped in a 30 year olds body, so you're going to watch an adult act like a kid, which I must admit is amusing. A must see film if you love Tom Hanks, and this film would showcase his early skills as an up and coming actor that would make an impact on film.
½
After many years, this formula works wonders. Every turn it takes, it's entertaining. Not much more then that. Tom Hanks was fantastic.
Big Quotes
| | |
| --- | --- |
| Josh Baskin: | I don't get it. |
| | |
| --- | --- |
| Josh Baskin: | If he is scared of me.. then why he beat me up..!!! |
| Josh Baskin: | If he is scared of me.. then why he beat me up! |
| | |
| --- | --- |
| Josh Baskin: | You mean sleep over? Ok, but I get to be on top! |
| Josh Baskin: | You mean sleep over? Okay, but I get to be on top! |
| | |
| --- | --- |
| Josh Baskin: | I wish i was big. |
| Josh Baskin: | I wish I was big. |