Big Ass Spider!
(2013)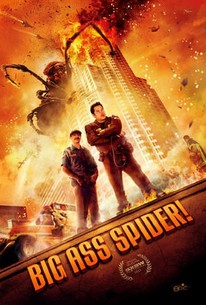 TOMATOMETER
AUDIENCE SCORE
Critic Consensus: Big Ass Spider! delivers on the promise of its outlandish title with a tongue-in-cheek creature feature that embraces its B-movie silliness with utterly entertaining results.
Movie Info
BIG ASS SPIDER is a TREMORS-style creature feature about a towering mutant arachnid rampaging across Los Angeles and the two unlikely heros who try to stop it. (c) Official Facebook
News & Interviews for Big Ass Spider!
Critic Reviews for Big Ass Spider!
Audience Reviews for Big Ass Spider!
½
Calling "Big Ass Spider!" one of the best Creature Features of recent years might not be too high a praise, but there's some value to be found in the film's balances, and a Lloyd Kaufman cameo never goes astray either.
Amusing B movie horror comedy that is surprisingly well made film considering its budget. This genre is lots of fun when it's done right, and with this film, we get just that. The film had a few weak parts, but overall it does succeed as an entertaining comedy horror film. The cast do good work here, and I thought that it was a return to form for these types of movies. If you enjoy sheer ridiculousness in films, then this is a film for you. There are times where I felt that the films potential didn't reach its fullest, but for what we get, this is still a good, entertaining ride. If you enjoy low budget horror flicks, then give this one a shot. The film has plenty of elements to make it worth seeing, but at times, the script could have been polished a bit. However that's to be expected from films like this, and you really can't expect anything great here. Big Ass Spider has its flaws, but the idea is quite good, and it is a fun, and highly entertaining return to films like Arachnophobia and Eight Legged Freaks, which are better, but this film manages to have that essence of what made those movies appealing. For a low budget affair, this film is very creative in terms of special effects and story. The film also has plenty of funny bits throughout and manages to join the genre as a fun, and silly movie that is exactly what you need to see with a group of friends. Don't expect a great film; just expect a good film, one that manages to entertain you with its ridiculous premise and fun humor.
MisterYoda ?
Super Reviewer
Big Ass Spider! Quotes
There are no approved quotes yet for this movie.