Big Bad Mama
(1974)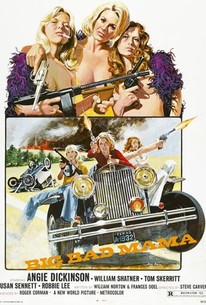 Movie Info
Set during the Great Depression, this crime caper centers on a tough but sexy woman loosely based on the figure of Ma Barker. With the help of her two beautiful young daughters, she embarks on a major crime spree, using her feminine wiles and her machine gun in equal measures.
Critic Reviews for Big Bad Mama
Audience Reviews for Big Bad Mama
½
Obviously aimed to capitalize on the success of Arthur Penn's "Bonnie and Clyde," this film is hardly on that level but is more fun to watch. Angie Dickinson and her two sexed-up daughters go on a Depression-era crime spree, taking Tom Skerritt and William Shatner along for the ride. Their capers are not just the typical bank heists, and are actually quite clever. And the film does such a nice job with recreating period details that you may take this for granted, amidst all the flashy sex and violence. Dickinson has a few nude scenes, and shows an amazing body for a 42-year-old (heck, even 22-year-olds would envy it). Her less curvy daughters also peel, as does Joan Prather (which may be kind of a shock to modern viewers, considering that she's probably best known as David Bradford's clean-cut wife on the TV series "Eight Is Enough").
Eric Broome
Super Reviewer
A knock off of Bonnie and Clyde? Not exactly. This movie has the same machine gun bank robbing action, but the relationships are messier and more scandalous, and there's a good amount of nudity. This movie has something to say about femininity,family, and survival in America during the depression. I liked it.
The trick to enjoying Big Bad Mama lies in paying strict attention during the opening credits and looking for a specific name during the credits -- namely Roger Corman. Once you realize that you're in for more of an entertaining movie than a good one and absolving Big Bad Mama of any great expectations, only then are you in for a good time. All the movie really consists of is a series of random and uncased robberies and excuses to see Angie Dickinson and her daughters naked and taking turns with Tom Skerritt against a backdrop of Depression-era backwoods silliness with a pretty abrupt ending. This isn't to say Big Bad Mama is all bad, said silliness is the movie's most endearing quality (Dickinson being a close second) and William Shatner in a hysterically horrible acting job is also worth the time. And yes, Big Bad Mama is pretty much a Bonnie and Clyde knockoff, but realizing that is the trick to enjoying it.
Michael Gildea
Super Reviewer
Big Bad Mama Quotes
There are no approved quotes yet for this movie.