The Big Clock
(1948)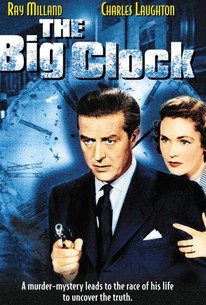 Movie Info
Told in the back-to-front fashion typical of film noir, The Big Clock opens with George Stroud (Ray Milland) trapped, his life in danger, his survival measured in the minute-by-minute movements of the huge central clock of the office building where he's hiding. In flashback we learn that Stroud works for media baron Earl Janoth (Charles Laughton) as the editor of Crimeways magazine. Janoth is a manipulative megalomaniac with various obsessions, including clocks; among other manifestations of the latter fixation, the skyscraper housing his empire's headquarters has as its central feature a huge clock that reads out the time around the world down to the second. Twenty-four hours earlier, on the eve of a long-delayed combined honeymoon/vacation with his wife (Maureen O'Sullivan), Stroud was ordered by Janoth to cancel the trip, and he resigned. In his depression, Stroud missed his wife's train and crossed paths with Pauline York (Rita Johnson), Janoth's very unhappy mistress, and the two commiserated by getting drunk together in a night on the town. While hurriedly leaving Pauline's apartment, he glimpsed Janoth entering. George sobers up the next day and joins his wife on their vacation, but is soon contacted by Janoth -- he apologizes to Stroud and wants him to lead an investigation into a criminal on the run. It immediately becomes clear to George that the man Janoth wants found is Stroud himself, a fact of which Janoth is unaware, because he did not see the face of the man who saw him entering York's apartment. And Stroud has to return to work on the case, or risk exposure in a scandal that could end his marriage -- but when he returns to New York and starts running the investigation, he soon realizes that he's caught up in a murder, and that he may be next, if Janoth ever realizes the identity of the man he's trying to find. The two play a clever, disjointed game of cat-and-mouse, Janoth in partnership with his general manager Steve Hagen (George Macready) pushing the investigation, knowing they plan on bringing the suspect in dead, and Stroud doing his best to delay and sidetrack the investigation, playing for time, knowing that the man they're looking for is standing right next to the two conspirators. Janoth seems near to be unraveling at the lack of conclusion to the hunt, but Stroud can't ignore the trail of proof and guilt winding ever tighter around both of them, even as it takes some grimly comic twists, mostly over the presence of Elsa Lanchester as a witness who has seen the "suspect." Milland is perfect in the role of the hapless Stroud, and Laughton is brilliant as the vain, self-centered Janoth, but George Macready is equally good as Hagen, his smooth, upper-crust Waspy smarminess making one's skin crawl. Also worth noting is Harry Morgan's sinister, silent performance as Janoth's personal valet; and sharp-eyed viewers will also recognize such performers as Douglas Spencer and Noel Neill (especially memorable as a tart-tongued elevator operator). Additionally, the Janoth Publications building where most of the action takes place is almost a cast member in itself, an art deco wonder. This film was later remade -- much less effectively -- as No Way Out.
Critic Reviews for The Big Clock
Audience Reviews for The Big Clock
½
Kind of a racy noir entree wherein the our hero not only is the suspected murderer, but also the detective ordered to hunt down ... himself. What's racy is the sexual depravity that drives the action, and that many of the characters are cast as the sexually depraved stereotype that they embody in popular myth, like Laughton as a closeted homosexual, or Elsa Lanchester as a ditzy slut. Poor ol' Ray Milliand is just a regular Joe trynta escape the clutches of all these wack job deviants. Some fun in the night.
Kevin M. Williams
Super Reviewer
½
Tightly made thriller, the inspiration for No Way Out with Kevin Costner, is well paced and well acted by an excellent cast. Laughton is great and Rita Johnson stands out as the mistress, she is given some wonderful lines and knows how to make them count. A worthwhile view.
an intense thriller with ray milland and charles laughton that was remade in the 80's as the kevin costner vehicle called no way out. this is better of course. some of the dialogue is line for line
Stella Dallas
Super Reviewer
The Big Clock Quotes
There are no approved quotes yet for this movie.