Big Daddy
(1999)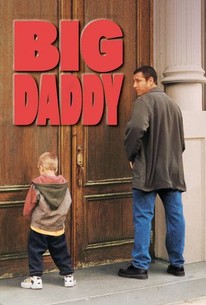 TOMATOMETER
AUDIENCE SCORE
Critic Consensus: Adam Sandler acquits himself admirably, but his charm isn't enough to make up for Big Daddy's jarring shifts between crude humor and mawkish sentimentality.
Movie Info
Prospective parents everywhere, meet the world's least likely paternal role model: Adam Sandler! In Big Daddy, Sandler plays 30-year-old bachelor Sonny Koufax, a carefree slob who has never much taken to adult responsibilities; he works one day a week as a tollbooth collector, and spends the remainder of his time living off of a $200,000 reward he collected from an auto accident. All told, the life suits him just fine. However, as his old buddies start getting married and drifting away, Sonny realizes that if he doesn't do something soon, he could end up all alone for the rest of his life. When his most recent girlfriend, Vanessa (Kristy Swanson), indicates that she needs some time off because she's sick of being with a man who can't act like a grown-up, he decides that it's time to take drastic action to win her back. Conveniently enough, a little boy named Julian (Cole Sprouse and Dylan Sprouse) turns up on his doorstep, claiming that he's the biological son of Sonny's roommate and friend from law school, Kevin (Jon Stewart). The kid tells Sonny that he's from Buffalo, New York; Kevin has never been to Buffalo, New York, but no matter - Sonny foresees, in Julian, an opportunity to convince Vanessa that he can face adult responsibilities. He thus takes charge of the little boy over a long Columbus Day weekend, pretending to be Kevin. However, the plan doesn't work as expected, and the authorities hone in on a discovery of Sonny's real identity. Meanwhile, Sonny finds himself genuinely drawn to the tyke. Also supporting Sandler in Big Daddy are Joey Lauren Adams, Josh Mostel and Rob Schneider. ~ Mark Deming, Rovi
Critic Reviews for Big Daddy
Audience Reviews for Big Daddy
Rewatched 2017 as part of a big dvd cull. Half half on whether I like this movie or not. On the plus side, enjoyed some of the cast including Joey Lauren Adams, Kristy Swanson and Leslie Mann. Plus it's a light 90's comedy. I have been enjoying revisiting those lately. What I hated - the whole long running "Hooters" gag and the humiliation of strong women by reducing them to a body part. I loathed that. Leslie Mann's character is now a doctor, but because Adam's character finds her unpleasant, she can be cut down to size by a quick reminder of a previous job she had. Ditto to Kristy Swanson's Vanessa, rejected Adam Sandler, so of course her fate is to mind up in Hooters. Really, really skeezy writing as far as I'm concerned. I did appreciate that it was fairly accepting of the gay male pair - surprising with that other train wreck Adam Sandler released which was highly offensive and homophobic. It was also kind of strange that the kid never once pines for or asks about his mother,but again, light comedy, not particularly deep. The parenting stuff was also pretty gross - peeing on people's shops etc. I did decide to keep the movie for now as I can't decide if the good out weighs the bad or not. I suspect in the future it will move on.
Nicki Marie
Super Reviewer
½
Of all the movies from Adam Sandler's prime era, this is probably the one I'd say is both the best, and my favorite. Perpetually slacker/idiot manchild Sonny doesn't want to grow up.He starts to see the need to change as all of his friends begin to move on, including his latest girlfriend who demands he make some changes. Conveniently enough, a little kind named Julian is left on his doorstep. A letter he's carrying claims that he's the biological son of SOnny's roommate Kevin. Kevin is out of the country on business, and, given his girlfriend's ultimatum, Sonny decides to pass himself off as Kevin and adopt Julian as his own. When things fall apart with his girlfriend, Sonny finds himself now stuck with Julian, and is forced to finally become a responsible adult. Despite the fact that this film is tonally uneven at times, and has a climactic courtroom scene whose conclusion and change is a tad too rushed, this is a pretty funny, sweet, and enjoyable film. Sandler's shtick hadn't yet gotten too tiresome at this point, and the film does feature his character make legitimate changes, even if, as I said, some of it is uneven. It's not totally buyable, but it's more convincing here than in something like Chuck and Larry. Many Sandler regulars show up here, and they do decent jobs with what they'e given. Rob Schneider is enjoyable as a restaurant delivery guy of vague Eastern European origin, and Steve Buscemi is a scene stealer as a homeless guy. I can't remember the guy's name, but the actor who plays the old drunk man is a riot, and he's easily my favorite character here. As Julian, twins Dylan and Cole Sprouse are quite good, and you really can't tell who is playing the character at any given time, which is impressive since they traded off every other scene. Leslie Mann is a delightful bitch, and Joey Lauren Adams is a sweet love interest for Sonny. Like a lot of Sandler productions, there's a vast amount of product placement, and here, the recurring one is Hooters. There's also heavy motifs involving lawyers and Styx. Overall, I think these things work, and don't stick out in a distracting way. The film is filled with great quotes and memorable moments, many of which have become prevalent inside jokes between a good friend and myself, namely "Hell yes!", "capetiller", "that's a shitload of piss", and many, many more. All in all, this is a decent movie. It's not perfect, but it manages a passable mix between sentimentality and crudeness, even if it isn't totally balanced.
Chris Weber
Super Reviewer
What can you say about Adam Sandler? He's funny and he provides entertaining content. In case you're wondering, I'm talking about the 90's Adam Sandler. Adam Sandler today is just...well...shit. Big Daddy was obviously the last of Sandler's films that were mildly fun to watch, so let's get to it. Big Daddy has Sandler playing Sonny Koufax, a guy who's been dumped by his girlfriend for being immature. But when his roommate's biological son shows up at his doorstep by accident, Sonny decides to keep him to try and show his girlfriend he's responsible. The thing about this movie is that there are parts that are laugh out loud funny. Most of the humor is based off of Adam Sandler being himself, but it's still pretty funny. But there are parts where the humor felt too low brow and there were some parts where the laughs are suppose to come off slapstick jokes, but I didn't find those too funny. As a matter of fact, there was more slapstick then I would've wanted. Since it's an Adam Sandler movie, it has the cast that you would expect like Rob Schneider and Steve Buscemi. I actually liked Buscemi's character for some reason. I don't know why, I just liked watching a homeless guy and his need for a sausage McMuffin. The rest of the characters were just meh. Rob Schneider's character was kind of funny, and the kid Sandler ends up with did some funny things. Sandler's character you root for right away mainly because it's Adam Sandler playing him. The main problem with the movie is that it's really predictable. I knew where the film was heading and in the end, the movie just ends with some emotion that's really forced and empty. 90% of the movie is just comedy stuff, but near the end the director tries to shove a whole bunch of emotion and sadness into your face, but it doesn't work. The film is funny at times, but the funny parts are overshadowed by all the unfunny slapstick and low brow humor. Adam Sandler had a good run in the 90's. He was on SNL, he made some funny movies, but this film marks the beginning of when his films start to become dumb and unwatchable.
Tyler Robertson
Super Reviewer
Big Daddy Quotes
| | |
| --- | --- |
| Old Man: | Koufax is a good egg, he was nice to that kid but he fights like a girl. You like that? I'm right here miss what are you gonna do about it hahahaha. |
| Sonny Koufax: | What are you drunk Mr Herlihy? |
| Old Man: | Well, I-I had a few chardonnays, what of it? |
| Sonny Koufax: | Get off the stand please. |
| Old Man: | You got it. Got a few problems. |
| | |
| --- | --- |
| Sonny Koufax: | Douchebag kangaroo... |
| | |
| --- | --- |
| Homeless Guy: | Yes.. Considering we're in America, I mean if you don't like spaghetti and meatballs, why don't you get the hell out. |
| | |
| --- | --- |
| Julian: | Electricity. |
| Sonny Koufax: | Very Good. |
| Julian: | Constitution. |