The Big Gay Musical
(2009)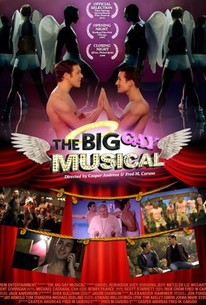 The Big Gay Musical Photos
Movie Info
Paul and Eddie have just begun previews for the new Off-Broadway musical "Adam and Steve Just the Way God Made 'Em." Their lives strangely mirror the characters they are playing. Paul is looking for the perfect man and Eddie is dealing with how his sexuality and faith can mix. After yet another disastrous dating experience, Paul has an epiphany. He is done dating and just wants to be a slut like the sexy chorus boys that share his dressing room. Eddie has to tell his parents that he's gay and is starring in a show that calls the bible the "Breeder's Informational Book of Living Examples". Eddie comes out to his family and Paul goes on Manhunt. Eddie's parents are destroyed by the news and Paul can't even have a good one-night stand. But after musical numbers with scantly clad tap dancing angels, a retelling of Genesis, tele-evangelists, a camp that attempts to turn gay kids straight, and a bunch of showtunes, everyone realizes that life gets better once they accept who they really are. And they are just the way God made 'em.
Critic Reviews for The Big Gay Musical
Audience Reviews for The Big Gay Musical
½
High production values for an indie gay film, but really -- not the excellent film the reviews might reflect. I found it emotionally esurient and shallow with acting on par with Missouri community theater. Weren't these guys featured players on "Off Pitch"?
Christian C
Super Reviewer
Touching plot, interesting songs and acting, however, some scenes are just plain silly
Sylvester Kuo
Super Reviewer
½
This is a great Gay 101 movie!! lol It gives a newbie and education while following other gays through typical gay scenarios. Campy and fun... I think even somewhat open-minded straight people would laugh a few times. But at the heart, I think most gay people can relate to at least one character or a combination of several characters. Tongue-in-cheek fun!
Thomas Johnston
Super Reviewer
The Big Gay Musical Quotes
There are no approved quotes yet for this movie.