Big Girls Don't Cry
(2002)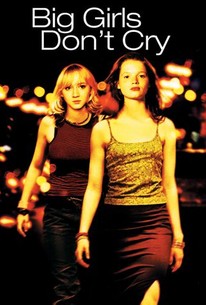 Big Girls Don't Cry Photos
Movie Info
Maria von Heland makes her feature-length directorial debut with the teen drama Grosse Mädchen Weinen Nicht (Big Girls Don't Cry). Set in Berlin, where traditional and poor Kati (Anna Maria Muhe) is best friends with liberal and wealthy Steffi (Karoline Herfurth). When they spot Steffi's father, Hans (Stefan Kurt), kissing another woman (Teresa Harder), the two girls plan a scheme of revenge. They make friends with the other woman's daughter, Tessa (Josefine Domes), only to set her up in a dangerous situation with a pornographer (Dieter Laser). As Steffi begins to experiment with drugs and sex, her friendship with Kati becomes increasingly strained.
Critic Reviews for Big Girls Don't Cry
Audience Reviews for Big Girls Don't Cry
½
Now this is adolescence! This German film is a real gem! Deeply emotional, it is the gripping story of the coming-of-age of two best friends who come to face reality. The story is captivating and leads to a brilliant ending; cliché yet enjoyable. The actors, whom I thought would be horrible, ended up being top-notch. I am pretty sure most of you are familiar with Sisterhood of the Traveling Pants. Both Sisterhood and Big Girls Don't Cry feature adolescent girls (best friends at that) dealing with life in general. Briefly, coming-of-age. But Sisterhood is a joke compared to this. I mean come on, teen girls don't all have perfect lives and go crazy over the slightest dramatic event. Some teen girls do take drugs. They do go to rave parties. They do have sex. They do have dark thoughts. Where Sisterhood features the bubblegum soda pop side of adolescence, Big Girls Don't Cry is the REAL DEAL. This could also be compared to Thirteen; however I personally prefer this over Thirteen because the latter is excessively intense to the point of making the viewer uncomfortable and nauseous. Over-dramatic if you ask me. Watch this instead!
Big Girls Don't Cry Quotes
There are no approved quotes yet for this movie.