Big Hero 6
(2014)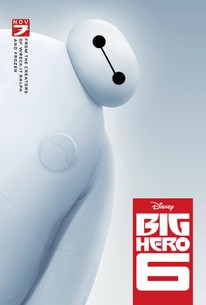 Movie Info
With all the heart and humor audiences expect from Walt Disney Animation Studios, "Big Hero 6" is an action-packed comedy-adventure about robotics prodigy Hiro Hamada, who learns to harness his genius-thanks to his brilliant brother Tadashi and their like-minded friends: adrenaline junkie Go Go Tamago, neatnik Wasabi, chemistry whiz Honey Lemon and fanboy Fred. When a devastating turn of events catapults them into the midst of a dangerous plot unfolding in the streets of San Fransokyo, Hiro turns to his closest companion-a robot named Baymax-and transforms the group into a band of high-tech heroes determined to solve the mystery. (C) Disney
Critic Reviews for Big Hero 6
Audience Reviews for Big Hero 6
½
Great animation is so common anymore its nearly taken for granted, but regardless, its here in spades and with a story that kinda makes it all stick. A nerdy boy genius loses his caring big smarter brother in a disaster and comes back to society only with the aid of his brother's last effort, a warm medical automaton named Baymax. Also, the brother's just-as-nerdy friends prove quite helpful as well. Me likey.
Kevin M. Williams
Super Reviewer
Lovely and heartwarming. I was skeptical at first about the cute-bait of Baymax, the inflatable health care robot, but he turns out to be a matter-of-fact diagnostician with a subtly cute innocence and a great capacity for love and sacrifice. The futuristic blend of Tokyo and San Francisco makes for some beautiful animation design, but the third act baddie twist is confusing and unnecessary.
Alice Shen
Super Reviewer
I found myself enjoying the first half of the film way more than the second half when it morphs into a generic superhero film. I was really liking the characters, story, and setting. I feel like if it weren't geared towards children this would have been one really dark and compelling story, but it goes a little too lighthearted and straightforward towards the end. This is not to say it is bad, I just think it felt like two different movies morphed into one with the first part superior to the second. It has great animation that is very colorful and pleasing to the eye and the voice actors do a good job. There's plenty of forced moments trying to get an emotional pull, but only some of them work. I also felt some of the funny gags went on too long. Man, I sound like a scrooge with how well this movie did critically and financially, but I guess the hype was kind of part of the reason I didn't enjoy it as much. It's perfectly fine for the kiddies and not at all a bad film, just not one that was something I got really excited about.
Josh Lewis
Super Reviewer
Big Hero 6 Quotes
| | |
| --- | --- |
| Fred's Dad: | Son. I wear them front. I wear them back. I go inside out, then I go front and back. |
| Fred: | Dad! |
| Fred's Dad: | We have a lot to talk about. |
| | |
| --- | --- |
| Wasabi: | If I wasn't terrified of heights, I'd like this. But, I'm terrified of heights, so I don't like this. |
| | |
| --- | --- |
| Fred: | Rocket fist make Freddie so happy! |
| | |
| --- | --- |
| Fred: | Can you feel it? You guys, do you feel this? Our origin story begins. We're gonna be superheroes! |