The Big House
(1930)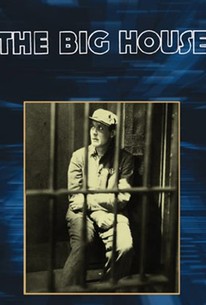 Movie Info
Not the first of the prison pictures, but the one that truly put the genre on the map. Playboy Kent (Robert Montgomery), driving drunk, kills a couple of pedestrians and is sentenced to a 10-year manslaughter term. His cellmate is forger Morgan (Chester Morris), a tough but essentially decent con; the cell-block leader is Butch (Wallace Beery), whose outer oafishness hides a cruel, calculating mind. Butch lives for the day that he can bust out and doesn't care who gets hurt along the way. Panicking, Kent "rats" on Butch and is murdered during the climactic breakout as a consequence. Morgan behaves courageously, saving the warden (Lewis Stone) and the guards from Butch's wrath; as a reward, Morgan earns a reduced sentence and the love of Kent's sister Anne (Leila Hyams). Remarkably brutal for an MGM film, The Big House (a double Oscar winner, for best screenplay and sound recording) established not only the grimy mise-en-scene of prison life, but also a whole new glossary of slang terms and a veritable menagerie of movie "types," from the firm but kindly prison chaplain to the embittered lifer. The film was gloriously lampooned by Laurel & Hardy's Pardon Us, in which Walter Long played the Beery counterpart.
Critic Reviews for The Big House
Audience Reviews for The Big House
***Spoilers ahead, Maybe?*** Since I like old black & white prison movies so much I expected to like this movie as well but I couldn't get into it.For me it was just OK.Right from the start I felt like I was watching it just to be watching it.Things didn't get exciting until the very end with the failed escape & shoot out.It was the only time I was able to get into the movie but there was only like 10 minutes left so it really didn't matter.During the riot I can't believe they brought out a couple of tanks.I was NOT expecting that.It had me wondering if there were ever any actual prison riots where tanks were used to bring the prison back to order.A thing I thought that was interesting was the inmate that escaped, went straight on the outside & seemed like he would've stayed that way if he wasn't captured & sent back, fell right back into place on the inside, the inmate who I thought would never let prison change him, ended up changing in the end & the main inmate you knew there was no hope for, was never going to change.I'm not sure The Big House is a movie I'd recommend.It got alot of good reviews but I just wasn't into it.It's something you'll have to see & decide for yourself
Brody Manson
Super Reviewer
½
an early prison break film. robert montgomery is completely overshadowed by the now forgotten actor chester morris. i'm afraid montgomery would be everyone's bitch at prison. wallace beery is fun and this film made him a huge star. frances marion became the first woman to win an oscar for screenwriting. it's a little hokey at times. i'd like to see what warner bros could've done with it. interesting to note that prison overcrowding was already an issue in 1930
Stella Dallas
Super Reviewer
A classic jailhouse saga.
John Ballantine
Super Reviewer
The Big House Quotes
There are no approved quotes yet for this movie.