Big Jake
(1971)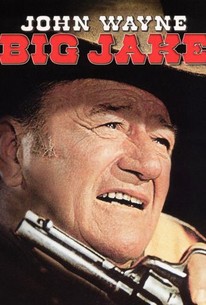 Movie Info
When Jake's grandson is kidnapped by scurrilous baddie Richard Boone, he sets out to deliver the $1 million ransom. On the off-chance that there'll be gunplay, Jake brings along his sons. In one of her most passive screen roles, Maureen O'Hara plays Jake's estranged wife.
Critic Reviews for Big Jake
Audience Reviews for Big Jake
This is a little like Butch Cassidy and the Sundance Kid with themes of the passing of the ways of the old west. It is set in the early 1900s. Automobiles and motorcycles are taking over as preferred modes of transportation. Wayne reunites with O'Hara briefly, too briefly. She only appears in the opening scenes. John Wayne's real son Patrick plays one rebellious son. Robert Michum's real son Christopher plays the other motocycle riding son. John Wayne is especially macho and stuck in his generation's way of relating to the younger generation who want to try new things. Of course since Wayne is the star and a producer, his character wins the day by stubbornly sticking to what he knows, putting the young men in their place as spoiled kids with tantrums and toys, and beating the outlaws.
Byron Brubaker
Super Reviewer
½
Altho ostensibly about the Duke chasing greedy, unscrupulous kidnappers (with Richard Boone the leering leader of despicable baddies), this tale mainly involves an errant father's careful rebonding with his distrustful offspring ... and the Duke's folksy charm does just that, after a few butt-kicking fistfights and a coupla shootouts, naturally.
Kevin M. Williams
Super Reviewer
This might be my favorite movie by the Duke.
Sean Gillespie
Super Reviewer
Big Jake Quotes
| | |
| --- | --- |
| Jacob McCandles: | You can call me Father, you can call me Jacob, you can call me Jake. You can call me a dirty son-of-a-bitch, but if you EVER call me Daddy again, I'll finish this fight. |
| | |
| --- | --- |
| Jacob McCandles: | Not hardly |
| Jacob McCandles: | Not hardly. |