Big Nothing
(2007)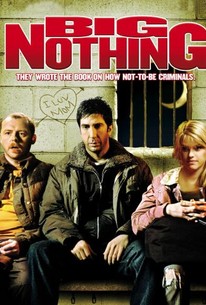 Movie Info
Director Jean-Baptiste Andrea's wicked, jet-black comic thriller Big Nothing stars Friends mainstay David Schwimmer as Charlie Wood, a onetime American professor now married to a policewoman, Penelope (Natascha McElhone) and living in Oregon. As the story opens, Charlie takes a job as a telephone operator at an Information Technology call support center, but is promptly fired for making offensive comments to a customer. One of Charlie's shadier co-workers, Gus Dickinson (Simon Pegg) wheedles him into his plan to blackmail a priest, Rev. Smalls (Mitchell Mullen) by using "inside" information from the company that demonstrates the minister's obsession with internet porn. Thus begins an endless series of Mametian twists and turns involving double-cross, mistaken identity, forced drownings, poisonings, infidelities and cold-blooded mariticide, as the men attempt to collect on the money but run head-first into one outrageous conflict after another. Alice Eve, Mimi Rogers and Jon Polito co-star; Andrea and William Asher co-authored the script.
Critic Reviews for Big Nothing
Audience Reviews for Big Nothing
½
Well-acted with a driven, entertaining plot and just plain hilarious. I approve
Idrees Khan
Super Reviewer
½
Not that funny but was enjoyable.
Dead Angel
Super Reviewer
½
Gets a lot into its 85 minutes, and the animation and split screens even work well to set the tone of a fast-moving novella on the screen. It's a thriller, a pretty original one, about 3 people in it together who have to admit they don't know each other at all but have linked their fates. Big Nothing would have been a league better if the writer-director stayed close to this theme, filling in the details of the plot from the first hour-- with the characters' taking in the gravity of their choices. The plot swings for the fences and then runs the bases carefully, keeping a feeling of plausible cause-and-effect until the last 20 minutes where the prospect of a second serial killer feels like a mangled O'Henry touch. This undercuts a thriller which had distinguished itself by balancing comedy and suspense exactly right, so you could believe what was happening in each category was not there for comic relief or to keep an audience from getting bored. The three leads are all good, and two have avoided big pitfalls. Schwimmer plays his role with agility to not sink like a sad sack, and Simon Pegg, with his hard-to-place American accent, seems like a familiar and unwicked type of person no matter how much his motives are revealed. For an English movie shot by a French director in Canada and Wales, the setting seems American enough, an updating of Jim Thompson's world to include most of a small town employed at a call center. And the characters here are all smarter than you would think if you tried to look at them only through the surroundings where each has immediately put themselves; this is also a very American thing that Brits don't usually get.
Adam Mahler
Super Reviewer
Big Nothing Quotes
There are no approved quotes yet for this movie.