The Big One
(1998)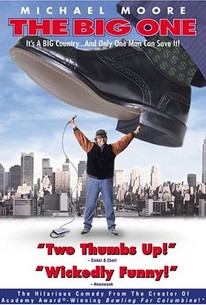 Movie Info
Grass-roots guerilla documentarian Michael Moore (Roger and Me) takes on corporate America and the horrific effects of downsizing in this subversive and satirical effort. Ostensibly, the film is a chronicle of Moore's cross-country promotional tour for his book Downsize This!, a castigation of the corporate bottom-line mentality that is destroying the livelihoods of countless Americans and exploiting laborers in Third World nations. Though generally surrounded by a small army of press, Moore and his own tiny film crew escape to drop in on the CEOs of several major companies. Highlights (or perhaps lowlights considering their context) include a visit to the Leaf Candy company's Payday candy-bar plant in Centralia, Illinois. Company executives are planning to shut it down, not because the plant is unproductive, but because the workers are too efficient! The big wigs figure they will do better to reopen a new plant in a foreign country to cut production costs. They care nothing for the economic devastation faced by Centralia residents. Moore also interviews Phil Knight, the CEO of Nike, in a chilling interview in which Moore tries to get Knight to acknowledge the immorality of exploiting cheap foreign labor in sweatshops to make sneakers. In another segment, Moore shows how TWA Airlines routinely employs prison inmates (rather than more expensive unemployed honest people) in California, some of them convicted killers, on their 1-800 information numbers. In between segments, Moore offers angry/funny insights on the state of things. Cameo appearances include Garrison Keillor and Studs Terkel.
Critic Reviews for The Big One
Audience Reviews for The Big One
½
The politics of filmmaker Michael Moore are very in your face, brash and uninvited. Still, his almost ridiculous obnoxious mannerisms and quirks usually make for a great watch, his grandstanding on public property and plights to meet with big business leaders legendary. His points are usually valid, his demeanor that of a figure with sound mind and researched facts, but I think we can all agree that he chops around what is true to make his documentaries. Instead of the usual narration, statistics, and actual message to bring to the American people, he lets us look at the behind the scenes action on his book tour, crossing America in a haphazard manner. You would think it would be a standard tour, just bringing out the actions of the book, but oh no, that isn't quite dramatic enough for Michael Moore's tastes. Instead he takes on every downsizing corporation in the towns he travels to, including my native capitol, Madison, Wisconsin. The reason I'm perturbed by this film over his other documentaries, is the laissez faire approach, the unknowing to where he's going next, what he's trying to get across, and who is responsible. He has a target, but for every argument he makes against something in his documentaries, there's hardly ever any suggestions to fix it. Here he wants corporations to stop moving jobs overseas, so the alternative is pretty simple. He even meets with unionized bookstores along the way. I enjoyed the comedic aspects, the belaboring care for the people he meets, and the protests of what is moral in this country. It just wasn't a part of the grandiose masterpieces I am used to.
Spencer S.
Super Reviewer
From the 1997 Toronto Film Festival. As much as I dislike Michael Moore, I have to admit this film produced by him is pretty good. Shows How Corporate America, is here for one thing and that?s to line there pockets with poor and middle class folks money. Movie jobs to Mexico and South America and US Prisons. Why did you leave out India Michael, have you ever had a computer that needed customer service, oh no that?s right you've gotten rich by writing books and making movies that also deface America. Ok I am off my Soap Box. Buy before I step down, Michael why don't you come to Ft Benning Georgia for a tour some day. 3 Stars. A rental Only I doubt that you will watch it more then once or Lend it put.
Bruce Bruce
Super Reviewer
A lot of fun for Moore fans, more like his TV show than his more recent documentaries. A lot of fun poking fun at the rich and powerful while following his book tour.
Christopher Brown
Super Reviewer
The Big One Quotes
There are no approved quotes yet for this movie.