Big Stan
(2009)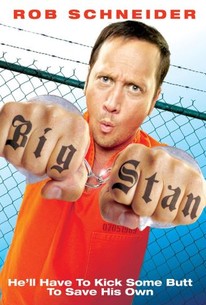 Movie Info
Deuce Bigalow star Rob Schneider writes and stars in this comedy about a nerdy con man whose swindling ways ultimately land him a stiff prison sentence. Terrified at the prospect of being raped while serving time, the diminutive convict-to-be enlists the aid of a respected kung-fu expert in teaching him how to properly defend himself. Once inside, however, he finds his kung-fu serving as a catalyst for peace between the many warring factions.
Critic Reviews for Big Stan
Audience Reviews for Big Stan
Very silly and predictable film that only seems to exsist to live out Schneider's fantasy of being a movie hard man for once. Although the fight scenes are actually pretty good and not spoofed too much, Schneider does actually seem to do the moves and is in good shape. Carradine is very hammy and rather poor, while the rest is just alot of gay sex jokes which does get kinda worrying after awhile.
Phil Hubbs
Super Reviewer
½
I have a soft spot for comedies & specially silly cmedies & the first hour of Big Stan works for me as a silly comedy but after that it becomes annoying & annoying to the point of being nauseous & the only funny thing is that it tries to get serious too, Daivid Carradine is hilarious
So stupid it becomes likeabe. The stupidity is a plus as Rob Schneider is sentenced to jail and fearing rape while he is on the inside, he decides to learn martial arts. For the majority of the film it doesn't make enough of it's bizarre premise. There's a few good jokes and some excellent moments, such as Schneider convincing the other convicts to give up rape. It actually handles race issues better thanmany serious dramas, using comedy to really highlight the absurdity. Schneider is fine in the role and I think he is actually an underated talent. At least he can be more contained than Sandler, Ferrel or carrey (in comedy films at least). A stupid film for lighthearted folks.
Luke Baldock
Super Reviewer