Big Top Pee-wee
(1988)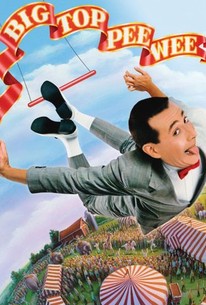 Movie Info
Pee-Wee lives on a farm that is full of talking animals and very large produce. One morning, after a tornado blows through, he wakes up to find a circus deposited in his back yard. Upon learning that they are facing bankruptcy, he suggests that they stage a show celebrating agriculture.
Critic Reviews for Big Top Pee-wee
Audience Reviews for Big Top Pee-wee
Not my favorite Pee-Wee, that's for sure. Even though Valeria is a babe, watching Pee-Wee make out with her is creepy. I miss him being my a-sexual friend. The story is a good one, who doesn't want to join the circus?!
Alexis Nomm
Super Reviewer
This movie was a horrible follow up to the awesome original Pee-wee movie. If only they could have got Burton back to direct it... of course he was busy making other great movies like Beetlejuice. This one has a ridiculous story and doesn't feel in touch with what you've gotten to know of Pee-Wee's world. I hated it.
Not the most terrific sequel, but Paul Reubens can be fun at times.
Tim Salmons
Super Reviewer
Big Top Pee-wee Quotes
There are no approved quotes yet for this movie.