Big Trouble
(2002)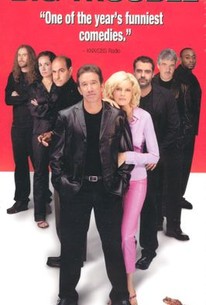 TOMATOMETER
AUDIENCE SCORE
Critic Consensus: With its large cast and frantic comic pacing, Big Trouble labors for slapstick-style hilarity, but it never really gains steam.
Movie Info
Barry Sonnenfeld directs this kissing cousin of his own 1995 hit Get Shorty, a comic caper adapted by Robert Ramsey and Matthew Stone from the novel by newspaper humorist Dave Barry. When two New Jersey hitmen (Dennis Farina and Jack Kehler) show up in Miami to whack crooked businessman Arthur Herk (Stanley Tucci), they happen to creep into his backyard at the same time as Matt (Ben Foster), a high school kid with his own assassination plans. Only, Matt plans to use nothing heavier than a squirt gun on Jenny (Zooey Deschanel), Arthur's daughter, as part of a school-wide game of "killer." When the plans collide, mayhem ensues, and Matt's struggling ex-columnist dad (Tim Allen, loosely modeled on Barry), Arthur's bored wife (Rene Russo), and two confused police officers (Janeane Garofalo and Patrick Warburton) are also called to the scene. Shift to the next day and there's more craziness to follow. Two dimwitted petty criminals (Tom Sizemore and Johnny Knoxville) choose the exact moment Arthur is transacting a nuclear arms deal to hold up the dive bar where they're regulars, which is actually a front for the Russian mob. Soon the whole motley cast -- including an agreeable drifter (Jason Lee), a buxom maid (Sofia Vergara), and a pair of ruthless FBI agents (Heavy D and Omar Epps) -- are caught up in a hostage scenario in which the weapon accidentally gets brought aboard a hijacked plan.
Critic Reviews for Big Trouble
Audience Reviews for Big Trouble
½
A great line up of talent and Dave Barry's story about shenanigans in the U.S. capital of the Third World and yet ... fizzle, a firecracker that doesn't go off. Sonnenfield explains in the extras section that no one really committed, and that it rained a lot. Eh.
Kevin M. Williams
Super Reviewer
very funny, jason lee steals the show
½
It was wild and crazy. Pretty funny but did get a little boring too.
Leigh Ryan
Super Reviewer