Biggie and Tupac
(2002)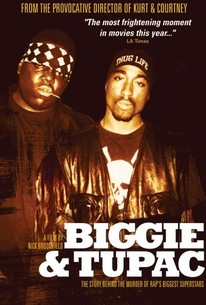 Movie Info
When rapper Notorious B.I.G. (aka Biggie Smalls) died in a hail of bullets outside the Soul Train Music Awards in Los Angeles in March of 1997, it appeared to be the latest salvo in the East Coast/West Coast rap/gang rivalry that had claimed the life of Tupac Shakur six months earlier in Las Vegas. Three years later, however, Los Angeles police Detective Russell Poole, who had been assigned to the Smalls case, went public with a startling accusation: the LAPD's top brass derailed the investigation when Poole began uncovering evidence that tied fellow LAPD officer David Mack to the rap star's murder. What if one of L.A.'s most infamous unsolved homicides involved a cop? Might it furthermore be connected to the city's unfolding Rampart scandal -the worst in LAPD history? Through a series of interviews as well as newly unveiled evidence, the film reveals some shocking details about the still unsolved murder of two of the biggest stars in rap.
Critic Reviews for Biggie and Tupac
Audience Reviews for Biggie and Tupac
A great discussion brought forward by the film makers from those who knew the rappers well on the potential conspiracy behind their deaths.
John Ballantine
Super Reviewer
From the same documentarian that brought you Heidi Fleiss: Hollywood Madam and Kurt & Courtney, comes our favorite conspiracy theorist with some interesting theories and oft-repeated questions about the murders of famous rappers Tupac Shakur and Biggie Smalls. Though Broomfield's films definitely have a low quality feel to them, the man also presses issues and asks the uncomfortable questions most people would be afraid to ask if they actually got to face the people who could give them those answers. This man travels into Biggie's and Tupac's childhood neighborhoods with no protection to ask their friends what they were like, what their opinions of the murders were, and even goes to prison to visit Suge Knight himself. Knight even references the Heidi Fleiss documentary, demanding that he not be made a fool like she was. Broomfield brings up an interesting theory: was Tupac murdered by his father figure Suge Knight because he wanted to leave Death Row Records? And did Knight have Biggie murdered to make their deaths look connected? Though only a handful of people agree with/confirm his theory, Broomfield makes a VERY convincing argument that keeps you hooked and helps you overlook the grainy look of his film.
Remi Logan
Super Reviewer
½
It was really interesting learning about these two people and how their relationship turned from good to bad. It was quite confusing following all the peoples names as I know very little about these two. I liked learning about their early lives and their talent and found it very interesting seeing them go into the prison to talk to Suge Knight. A good explorative documentary.
Sophie Burgess
Super Reviewer
Biggie and Tupac Quotes
There are no approved quotes yet for this movie.