Bill and Ted's Excellent Adventure
(1989)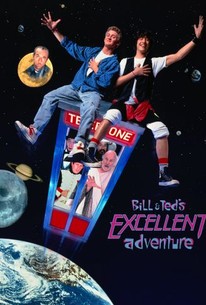 TOMATOMETER
AUDIENCE SCORE
Critic Consensus: Keanu Reeves and Alex Winter are just charming, goofy, and silly enough to make this fluffy time-travel Adventure work.
Bill and Ted's Excellent Adventure Videos
Bill and Ted's Excellent Adventure Photos
Movie Info
When a couple air-headed rock-star wannabes are faced with the break-up of their band as a result of poor grades, help comes along in the form of an "Emissary from the Future" who takes them to the past to meet the people they have been studying about.
News & Interviews for Bill and Ted's Excellent Adventure
Critic Reviews for Bill and Ted's Excellent Adventure
Audience Reviews for Bill and Ted's Excellent Adventure
½
This could quite possibly be one of the most original and well created comicbook style movie franchises that didn't actually start out originally as a comicbook. Yep believe it or not this cult franchise started out with the first film which was ingeniously written by two fellas called Matheson and Solomon, this film was not adapted from a comicbook source. I used to watch this film when I was still in school back in the day, it was massive! I adored it and watched it all the time. The basic premise is so simple yet the film has been so well crafted I fail to see how anyone can not enjoy it. Bill and Ted are a couple of metalhead school flunks in the present day, yet through a bizarre series of events both will eventually become the inspirational 'Great Ones' that changed the human race into a peaceful utopian society...through their music. The problem is if they don't pass their history class Ted will get shipped off to military academy and this future will never happen. Enter 'Rufus' to help and assist the bumbling duo in passing their final history test/exam thing. Watching this recently I guess the main things that stand out to me are...well actually there are a lot of things that stood out and still hold up today. The visuals are great fun, sure its not as colourful as the sequel but I'm still really impressed at how good each period looks mainly. The duo travel across a few eras and I must say everything looks pretty darn good considering this was a bit of a tacky throw away teen flick. Each period is only seen briefly but it all holds up even though you might only see a single room or street. For example when they pick up Beethoven we see a really elegant 18th Century room full of aristocrats or noble folk and it looks good, believable. There's a real castle with a nice interior for 15th Century England (God knows where), a small taste of ancient Greece with pillars and statues, a section of a wild west town etc...My point is they clearly have had to stretch and struggle to create each period but full kudos to them as it all looks amazingly solid. Not everything looks that good these days of course, some of the periods are a bit thin on the ground visually eg. Napoleon's war camp, prehistoric San Dimas and Genghis Khan's tent which is obviously an easy cover for not showing anything else. But again on the plus side all the costumes look really good and the casting is really good too. I still found Terry Camilleri's subtle performance as Napoleon to be hilarious with his little French mutterings and facial expressions, he fit this role like a glove, brilliant!. All the other cast really do look good with some nice makeup work, Abe Lincoln is especially good looks and performance wise, as is Beethoven and the almost mute Socrates. Honourable mention to Al Leong as Genghis Khan. Despite the age and silliness of this film I have no issues with any of the historical elements really. I'm just amazed it does look as good as it does because we all know how shitty these things can look with less care. I mean apart from the joyous adventure there is so much to praise here. The soundtrack is awesome, pure awesomeness, yeah its totally 80's of course but if you like 80's tunage then you'll love this selection. There are some truly electric sequences which are bitchin' simply down to the musical track that accompanies them. Add to that the full on retro vibe going on here, I just love every minute of it, the sneakers, cars, tunes, technology, clothes etc...there is one scene where Billy the Kid and Socrates try to chat up these two girls in the mall. Oh my these girls are visually the epitome of the 80's, not that that's a surprise of course but little things like this brings the memories flooding back and really helped me enjoy the film. Oh and my God one of them is super cute!. Admittedly the film does take a bit of a dive as you near the end. The whole history test thing they gotta take always did seem evil to me, what kind of high school test involves standing in front of an entire hall full of students and giving a lecture on history?! Jesus!. And lets be honest here, the presentation Bill and Ted give is pretty nondescript really, it is essentially a bunch of people giving them a pat on the back, its more of a magic show. There are bits I could pick at throughout the film like the fact they somehow manage to squeeze so many people into one phone booth and when they drop all the famous history figures back into their own times wouldn't their new knowledge and visions of the future change history dramatically?. But lets be honest here, this film isn't anything more than a wild ride that probably wasn't expected to do much more than hit the videoshop shelves and rot (many similar teen flicks over the years did just that, 'Bio-Dome' anyone). There's a reason the franchise became a cult and that's because this first film is so damn enjoyable. The cool phone booth concept is genius, the ultra cool Rufus played by Carlin, the quirky and amusing looking 2688 future humans and of course the iconic dialog which has become a part of modern pop culture and predates the Teenage Mutant Ninja Turtles pizza surfing spiel. A most triumphant time travel fantasy which is pretty much a hidden gem these days, full of surprises and a franchise that Keanu Reeves was actually perfectly cast for.
Phil Hubbs
Super Reviewer
The chemistry between Keanu Reeves and Alex Winter is terrific, as they are two carefree high school seniors who are given the opportunity to travel back in time in order to pass their history assignment and stay together in order to become the greatest rock band in history, as they are known for in the future. This wackiness of the their adventures is definitely expressed with perfection on screen, and the set pieces are very well put together. I actually believed that I was travelling back into ancient times. Sure, the effects are dated, the comedy is overly silly, and the premise is quirky, but "Bill and Ted's Excellent Adventure" is way too much fun to pass up. This film is most awesome!
½
Bill & Ted's Excellent Adventure is a fun, brainless and entertaining comedy. The film surrounds two metalheads that happen to almost graduate, but unfortunately they are about to fail unless they pass a final history presentation. Bill & Ted's Excellent Adventure is a funny comedy that is very entertaining and has some good laughs. Keanu Reeves and Alex Winter are great in this film, and they have good chemistry. The film follows the duo as they go back in time to collect historical people for their project in order for them to pass. This is a fun comedy that is a must see with friends, and has plenty of laughs. The film is fairly original, and it's always amusing. I enjoyed this film, and thought it was a terrific comedy. Despite the fact that at times, it's idiotic, it's all in good fun, and the end result is a film that is very entertaining and fun. Bill & Ted's Excellent Adventure is a good comedy that boasts a good cast, a witty script and has enough momentum to be entertaining for the viewer. This isn't a flawless comedy, but this is still a good enough film to enjoy. The film is a pleasant time waster, and one of those late 80's comedies that still remains fun after all these years. Bill & Ted's Excellent Adventure is a good comedy with a good cast and is a perfect comedy to watch with a gang of friends. This simply pure fun and it definitely delivers that and more.
Bill and Ted's Excellent Adventure Quotes
| | |
| --- | --- |
| Bill S. Preston: | We're in danger of flunking most heinously tomorrow, Ted. |
| | |
| --- | --- |
| Bill S. Preston: | Okay, wait, if we were one of Europe's greatest leaders, and we were stranded in San Dimas for one day, where would we go? |
| Bill S. Preston: | [pause, then with Ted] Waterloo! |
| | |
| --- | --- |
| Bill S. Preston: | You ditched Napoleon! |
| Ted "Theodore" Logan: | Deacon, do you realize you have just stranded one of Europe's greatest leaders in San Dimas? |
| Deacon: | He was a dick. |
| | |
| --- | --- |
| Evil Duke: | Put them in the iron maiden. |
| Ted "Theodore" Logan: | Iron Maiden? |
| Bill S. Preston: | [With Ted] Excellent! [both play air guitar] |
| Evil Duke: | Execute them. |