Billy Bathgate
(1991)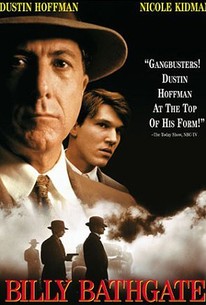 Movie Info
In this film version of E. L. Doctorow's Billy Bathgate, Loren Dean plays the title character, a street-smart kid who inveigles his way into the confidence of 1930s gangster Dutch Schultz (Dustin Hoffman). Billy is ordered to look after Schultz' new moll, Drew Preston (Nicole Kidman), while Dutch fends off tax evasion charges and such up-and-coming rivals as Lucky Luciano (Stanley Tucci). Even though they know they're playing with dynamite, Billy and Drew fall in love. In attempting to escape Schultz' wrath, Billy succeeds only in putting himself in the thick of a gun battle between his boss and Luciano. When "Charley Lucky" emerges triumphant, Billy is forced once again to rely on his wits to escape being sent to the bottom of the briny in a cement overcoat. Bruce Willis shows up in an extended cameo as Dutch Schultz' former business associate. Billy Bathgate was adapted for the screen by British playwright Tom Stoppard.
Critic Reviews for Billy Bathgate
Audience Reviews for Billy Bathgate
Billy Bathgate should be much more exciting and gritty than it is. The story of Dutch Schultz and his decline offers a wealth of material for Hollywood to make a competent gangster film. Instead, Billy Bathgate focuses more on Schultz's protege, and his brief love interest in Nicole Kidman. This succeeds in making the movie boring at times.That said, Dustin Hoffman was excellent as Schultz, and Bruce Willis was effective as well, though ultimately wasted. Hoffman and the excellent world building, the most realistic depiction of 1930s New York I've seen, are why I ultimately enjoyed it, despite its' prominent flaws.
Jeffrey Meyers
Super Reviewer
I don't remember too much about it now but my lingering impression is that it was better than I expected for yet another gangster yarn, plus there's always bonus points for Nicole Kidman skinnydipping.
Doctor Strangeblog
Super Reviewer
½
A strangely unfulfilling gangster movie. One would expect a greater film considering the all star cast.
John Ballantine
Super Reviewer
Billy Bathgate Quotes
There are no approved quotes yet for this movie.