Billy Elliot
(2000)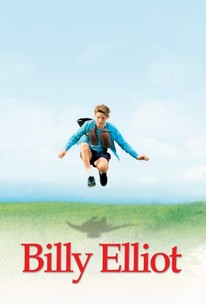 Movie Info
The life of a miner's son in Northern England is forever changed one day when he stumbles upon a ballet class on his way to boxing lessons. Joining the class and keeping it a secret from his widowed father and overbearing brother, 11-year-old Billy finds himself in dance, demonstrating the kind of raw talent seldom seen by the class's exacting instructor, Mrs. Wilkinson. She encourages him to try out for the Royal Ballet. But when his father and brother find out and forbid him to continue, Billy is torn between his responsibility to his family and to the gift with which he has been blessed. His overwhelming desire to dance has become much more to him that simply a means of self-expression. It is his passion and it is his destiny.
Critic Reviews for Billy Elliot
Audience Reviews for Billy Elliot
½
It comes as a truly delightful surprise how a simple story like this can be made into such a wonderful, captivating film that makes us cry and laugh in equal measure, and the best thing is that it never resorts to easy clichés or shows things in black and white like many would.
Carlos Magalhães
Super Reviewer
Tore my working-class heart in two then sewed in a spacer, so it could swell bigger than ever before... beautiful story about passion and grief and coming of age and socio-economic hardship and black sheep and Britain in the 80s and fathers and sons and sure, dancing, but it really doesn't have to be dancing... if you came from somewhere you never thought you'd get out of till the one day you found that thing that you know could be your ticket, get ready for tears. Beautiful film, instantly among my all-time favourites. Embarrassed to have not seen it earlier in life.
Daniel Perry
Super Reviewer
½
The film that started it all...well for this particular franchise/story that is. One of many films that has become a great success and followed on with even greater success as a musical theatrical production. I think this film may have been one of the first to kick start that trend as it were, can't quite remember. The tale of a humble miners son whose aspirations to become a male ballet dancer are frowned upon by his blue collar father and similar blue collar brother. Set in north eastern England around 1984-85 during the miners strikes against a powerful Thatcher led Conservative regime...errr I mean government. Billy is destined to become a miner like his older brother and father and is pretty much forced to take part in boxing at school by his father. His dad obviously wants more for his boy with the possibility of boxing but he knows the pit beckons. On the other hand Billy discovers his love for dancing in ballet and wants to follow that path. Naturally this disgusts his strong proud father and gets him into trouble for disobeying. The whole plot could be the tale of many many northern born men within England at any point in time really. I have lived up north in the UK and it can indeed be a bit bleak with little job prospects for youngsters (no offence to the north). The whole film is one big stereotype really, but a very real and truthful stereotype. Billy's tough working father is a typical northern bloke who likes beer boxing and a good plate of drippin' sandwiches. The area they live in is of course very working class with small terrace housing along steep hills and flatcaps everywhere and the general attitude of all the men is somewhat old fashioned. Boys partake in football rugby and boxing, girls do ballet and sewing, there is no middle ground...dare I say homophobia is lightly touched upon too. I am exaggerating yes? well not really, as I said I've lived up north for many years and in some areas this is exactly what its like to this day. Thinking back to 1984-85 it would have been ten times worse!. The main crux of the story is Billy's struggle against 'the norm' and his fathers rules. He wants to be a ballet dancer, his school dance teacher thinks he's good enough but the money isn't there to fund it any further and his father hates the fact his boy might be a sissy. I think many people will be able to relate to this story as I said, but not just with dancing, with many areas. The scenes where Billy fights against his dad are naturally emotionally strong and really hooked me. There are many scenes where Billy gets into trouble by playing with his homosexual friend whom he doesn't understand is homosexual, not going to boxing lessons, going to ballet lessons and the intense strike sequences which are all terrifically acted out and really sucked me into the moment. The moments of spontaneous dance from Billy are really cool to watch, I really found myself wanting to dance too, yeah maybe I can do what Billy does!. Every character is wonderfully portrayed, Bell is a little bit too full of himself at times, a bit too eager to please by over acting perhaps but he's certainly fun to watch. The only character I thought was maybe a bit off was Billy's dad played by Gary Lewis. I really thought this character needed to be much harsher, stricter, he was tough but I didn't really fear him or his rule. I'm not saying there should have been nasty beatings but he just didn't sell the gruff northerner aspect to me despite the fact he's Scottish. I think the fact he is actually Scottish (and in the film it seems) means he doesn't have the REAL English northerner spirit inside him, unlike a real Geordie, Yorkshireman, Mackem etc... The build up to the finale is quite moving and did pull on my heart strings I can't deny. Its all very cliche but it damn well works...damn it!. The whole notion of anyone trying to simply make their father/mother proud by their good actions or dedication to something is a warm path to tread and guaranteed hanky dampener at the movies. Again many will be able to relate to the lovely final curtain sequence as Billy finally shows his family what he has achieved, it does put a lump in your throat and made me wish I could do the same with my own father. I think you will get more out of this film being British and knowing of the north south divide and stereotypical views within the UK. I think if you live up north then you will certainly know the vibe this film gives off and will be able to relate and hopefully enjoy. It can be a feel good film but at the same time it can also be a slightly depressing film on various aspects...the miners strikes, being on the breadline, the grim north and being a youngster trying to break out of a situation. In the end the film is a joy to watch and should leave you upbeat. I hope I have not upset any of my northern countrymen, my dad is a Yorkshireman born n bred so I have experience ^_^
Phil Hubbs
Super Reviewer