Billy Lynn's Long Halftime Walk
(2016)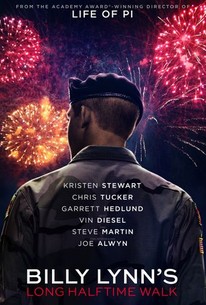 TOMATOMETER
AUDIENCE SCORE
Critic Consensus: Billy Lynn's Long Halftime Walk has noble goals, but lacks a strong enough screenplay to achieve them -- and its visual innovations are often merely distracting.
Billy Lynn's Long Halftime Walk Videos
Billy Lynn's Long Halftime Walk Photos
Movie Info
The film is told from the point of view of 19-year-old private Billy Lynn, who, along with his fellow soldiers in Bravo Squad, has been hailed as a hero and brought home for a victory tour after a harrowing Iraq battle. Through flashbacks, culminating at the spectacular halftime show of the Thanksgiving Day football game, the film reveals what really happened to the squad - contrasting the realities of the Iraq conflict with America's celebration back home.
News & Interviews for Billy Lynn's Long Halftime Walk
Critic Reviews for Billy Lynn's Long Halftime Walk
Audience Reviews for Billy Lynn's Long Halftime Walk
½
From Ang Lee comes the compelling war drama Billy Lynn's Long Halftime Walk. Based on a novel, the story follows returning war hero Billy Lynn and his squad as they wrap up a good will tour by appearing in the halftime show of a Dallas Cowboys game. The script is especially well-writing and addressing a number of topical issues, including the exploitation of soldiers, PTSD, and the comradery of brothers in arms. It's not really pro- or anti-war, rather the film looks at the realities that soldiers face. The cast is fairly good and delivers some strong performances. And the production values are especially well-done, particularly the cinematography. A smart and thought-provoking film, Billy Lynn's Long Halftime Walk is incredibly powerful.
Dann Michalski
Super Reviewer
When did Academy Award winning director Ang Lee -- famous for meaningful films like "Brokeback Mountain" and "Life of Pi" -- begin directing after-school specials for the Hallmark Channel? Of the five films he's directed in the last dozen years, "Billy Lynn" probably does not make the Top 4 List.
Christian C
Super Reviewer
½
True Stories can either manipulate its audience into thinking there was more to the story than what news platforms had lead on at the time, but they can also just be effective films on their own, even though you know the full story going in. Sadly, Billy Lynn's Long Halftime Walk fails to impress on either one of those levels. It's one thing to make a story your own and have an incredible vision placed on-screen, but I think this film tried far too hard to add emotion where it didn't need to be. To be quite honest, this is a film that deserved a documentary made, where the real heroes speak about their past, while this main event is showcased. Here is why Billy Lynn's Long Halftime Walk is disappointing, even with no expectations. As a solider (Billy Lynn) is brought home after his time in Iraq, he and the rest of the men from his tour must do a victory walk down the stage during halftime at the Super Bowl. In itself, this is not much substance to make a film out of, which is why I was shocked to see Ang Lee at the helm as director. It's not that it's poorly structured or anything, but it's the fact that the war itself (shown through flashbacks) would have made a great story on its own. Constantly cutting back and forth from the war to the events at the Super Bowl felt very jarring at times. I truly feel as though this film would've worked better as either a Documentary or a three hour epic, showcasing the war itself, as well as the aftermath. Yes, the fact that the world is never truly able to see and feel what these soldiers have been through is more than true, but when this tactic is used as an entire feature film in order to make the present-day storyline more impactful, it seems a little manipulative to me. Not to say that it wasn't effective, because there were a few moments when I found myself becoming moved by the story at hand. This film places these two connective events together in such a way that matter and works in context with the film, but the war sequences are really only shown when nothing else interesting is going on. For that reason, it either felt like filler or manipulation for its audience. All of this on the table, I found myself faced with the impossible task of criticizing these actors. Aside from a few inessential characters throughout the film, whether Kristen Stewart was playing off Joe Alwyn or Steve Martin was delivering his few lines, everyone seemed to be giving it their all in these roles, and I respected that more than anything else. Never did I expect to see a film about the aftermath of war with Garrett Hedlund, Kristen Stewart, and Steve Martin as core performances. The one thing I was able to praise about this film were the performances. I always felt moved whenever an actor/actresses was delivering a compelling line of dialogue, and this aspect alone made this film worth watching. Looking back on this film, I have to admit that I found myself bored quite often. The pacing is quite bad and the premise itself doesn't work as a feature film. On the other hand, the performances are all terrific and the manipulation of the war scenes intercut with the happiness of the Super Bowl was pretty effective. All of that said, this film is average at best. I can't get myself to recommend this film to anyone, because I truly believe you will either find yourself enjoying either the war side of the story or the aftermath, but not the two together. I will be complimentary and say that this is a competent film, but I truthfully can't see myself ever revisiting it.
Billy Lynn's Long Halftime Walk Quotes
There are no approved quotes yet for this movie.