Biloxi Blues
(1988)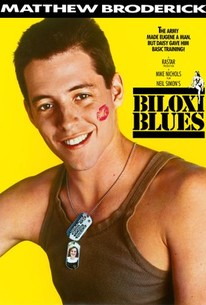 Movie Info
During World War II, a young Jewish man is drafted and sent to boot camp in Biloxi, Mississippi, where he faces infernal heat, a psychotic drill sergeant, and the challenges of manhood. This comedy is based on the popular -- and somewhat autobiographical -- stage play by Neil Simon.
Critic Reviews for Biloxi Blues
Audience Reviews for Biloxi Blues
"Biloxi Blues is about Eugene Morris Jerome who is drafted and shipped off to boot camp in Biloxi, Mississippi near the end of World War II. Right off the train Jerome immediately falls under Sgt. Toomey's shit list. Jerome is sarcastic and Toomey is a little off in the head, so they really don't mesh well together. Toomey targets Jerome for most of the film making him the outcast along with his fellow soldier Epstein, who is constantly put on latrine duty. Jerome learns a lot about himself during his time in Biloxi and has a lot of firsts. I must admit that losing his virginity has to be one of the funnier moments in the film. The way he's climbing all over her like a monkey was pretty funny. Walken and Broderick have great chemistry on screen and give really good performances. But Walken steals the show. The film is enjoyable and I really liked it. I would for sure see this again."
♥˩ƳИИ ƜѲѲƉƧ♥
Super Reviewer
A warm and fuzzy version of the classic boot camp drama. Not to bad, but not that great either.
Ken Stachnik
Super Reviewer
Another corny adaption of a Neil Simon play. It is horribly acted by Matthew Broderick, who cannot act outside of a John Hughes film. It is a terrible coming of age story and a dime a dozen. The only redeeming quality was a rather good performance from Christopher Walken as a drill instructor.
Conner Rainwater
Super Reviewer
Biloxi Blues Quotes
| | |
| --- | --- |
| Sgt. Merwin J. Toomey: | "The moral to this story is -- when you get real horny -- do unto yourself as you would otherwise do unto others." |
| | |
| --- | --- |
| Sgt. Merwin J. Toomey: | "You're taking me on, aren't you? I have a nutcracker that crunches the testicles of men that take me on." |
| Sgt. Merwin J. Toomey: | You're taking me on, aren't you? I have a nutcracker that crunches the testicles of men that take me on. |
| | |
| --- | --- |
| Sgt. Merwin J. Toomey: | "In the past twenty-one days, you boys have made some fine progress. You're not fighting soldiers yet, but I'd match you up against some Nazi cocktail waitress anytime." |
| Sgt. Merwin J. Toomey: | In the past twenty-one days, you boys have made some fine progress. You're not fighting soldiers yet, but I'd match you up against some Nazi cocktail waitress anytime. |