Bio-Dome
(1996)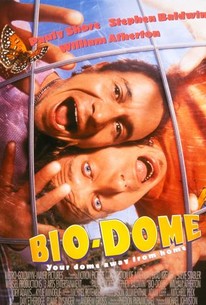 Movie Info
Two stupid college students stop to use the bathroom and end up trapped in a bio-dome, or simulated earth. After they throw a party and trash the place, they must restore the dome's ecosystem -- but not without a fair share of beer guzzling and flatulence.
Critic Reviews for Bio-Dome
Audience Reviews for Bio-Dome
Bio-Dome is one of the last "major" films starring Pauly Shore, and it's no secret as to why he faded after this piece of trash. When Pauly Shore first started out, he did bring a few laughs. Encino Man and Son in Law were decent comedies. After that, Pauly became so repetitive and unfunny so fast that it's no wonder that he's in the where are they now file. This film is stupid, dimwitted, excrutiatingly painful to watch. Bio-Dome is a poorly made comedy with no laughs whatsoever, there's only one chuckle to be had in the film. The film insults the intellect and has nothing good whatsoever going on to interest the viewer. The film sucks, the characters terrible, and worst, some good talent chose to be in this film. Signing on to do a Pauly Shore film is the nail in the coffin to many up and coming actors. Just look at Stephen Baldwin, this film ended his career. Bio-Dome is the perfect example of a film that should've never been made in the first place. The film misses the mark on so many levels and can only be described as a really bad comedy and film overall. This film sucks. It's no wonder why Pauly Shore's career went downhill from here. There's only so much one can do, and his gimmick became old after two films. Avoid this film.
Cute but I'll pass on seconds.
Tim Salmons
Super Reviewer
Curtis Lilly
Super Reviewer
Bio-Dome Quotes
There are no approved quotes yet for this movie.