Bird Box
(2018)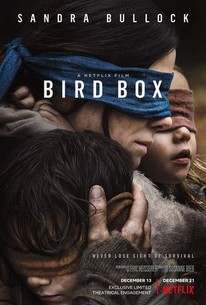 TOMATOMETER
AUDIENCE SCORE
Critic Consensus: Bird Box never quite reaches its intriguing potential, but strong acting and an effectively chilly mood offer intermittently creepy compensation.
Movie Info
When a mysterious force decimates the world's population, only one thing is certain: if you see it, you take your life. Facing the unknown, Malorie finds love, hope and a new beginning only for it to unravel. Now she must flee with her two children down a treacherous river to the one place left that may offer sanctuary. But to survive, they'll have to undertake the perilous two-day journey blindfolded. Academy Award (R) winner Sandra Bullock leads an all-star cast that includes Trevante Rhodes, with Sarah Paulson, and John Malkovich in BIRD BOX, a compelling new thriller from Academy Award (R) winner Susanne Bier.
News & Interviews for Bird Box
Critic Reviews for Bird Box
Audience Reviews for Bird Box
As a film critic, I feel compelled to write about Bird Box because, apparently, one third of the entire Internet is currently talking about this Netflix sci-fi horror movie. It's about killer monsters that cause people to violently kill themselves upon sight. Netflix has reported that over 40 million customers have watched Bird Box in its first week of its streaming release, which basically means 35 million people likely fell asleep to Netflix and it started playing the new high-profile movie on auto play. I know people that love this movie. I know people that hate this movie. I know people who hate this movie with a passion and go into apoplexy trying to describe their disgust. Bird Box isn't a movie worth strong feelings, both good and bad. It's a fittingly entertaining movie with too many structural flaws, underdeveloped ideas, and diminished tension and stakes. Malorie (Sandra Bullock) is trying to navigate the post-apocalyptic world of monsters. She's traveling down river with her two children, all blindfolded. Meanwhile, she flashes back to the first few days of the monster outbreak when she found security in a stranger's home until things went from bad to worse to murderous. Part of the problem with Bird Box is that the monsters never feel that threatening because the hazy rules manage to defang them. Given the unknowable nature of monsters, I'm not expecting a textbook but some level of consistency that won't rip me out of the film. The monsters are only a threat when you look at them, which is fine, except they cannot or choose to refrain from physically interacting with their human targets. I don't know if this is a natural limitation, a choice, or simply anecdotal evidence that will be disproved. Just because the monsters haven't done something yet doesn't mean they might not be able to. Just because the monsters don't attack anyone wearing a blue sweatshirt with a googly-eyed reindeer doesn't mean this is standard. We see at one point the collateral movement of a monster chasing after Sandy and the kids, shoving trees and other forest vegetation aside. They do physically interact with the world; they just do not interact with our characters. This takes away much of the danger of these creatures. There's one scene where a character is struggling to get indoors and, oh no, the garage door is opening. Look out; all he has to do is... continue not looking at the monsters as he was doing without effort. It makes me think of The Simpsons Halloween episode where the key to defeating killer mutant advertisements was not to look (it had Paul Anka's guarantee). The monsters also adopt the voices of loved ones, so survivors would start to learn from these experiences and begin to carry a deep skepticism about suddenly prevalent loved ones begging for blindfolds to be removed. Does this mean the monsters can psychically read the thoughts of human beings to know what voices to tap into? It made me think of The Bye Bye Man and its Bye Bye Man-induced hallucinations ("Is this cop's face really oozing black blood through empty eye sockets, or is that you Bye Bye Man, you scamp?"). This is an interesting aspect that never feels fully developed, the mistrusting nature of the calls for help. Instead of adopting the voice of dead loved ones, I wish the monsters had chosen more judiciously. You could feature a sequence with someone genuinely calling for help and being left behind by Sandy because, in their blindfolded state, they cannot tell the difference in the authenticity of the speaker's claims. But what I kept coming back to is why can't the monsters go indoors? This was a hurdle I could never fully get over because it cheapened the threat for me. As with any apocalyptic or viral outbreak, there is danger in having to leave the sanctuary, and there will be a need to gather supplies, but once you have a home base the monsters can't enter, it loses a level of stakes. It makes me think of M. Night Shyamalan's Signs where space aliens can travel the stars but cannot open a pantry door. Having limitations on your monsters is essential or else the threat will feel too overwhelming, but these limitations need to make consistent sense. The monsters in A Quiet Place had superior hearing but were essentially blind. The monsters in Bird Box are deadly to look at, will tempt you with auditory siren songs, but as long as one remains indoors and stays away from windows, you can live a happy and healthy albeit sheltered life of repose. This is one reason why the story has to find a new threat that is allowed to venture into the safe spaces. There are certain people who seem immune to the suicidal impulses of the monsters. The screenplay by Eric Heisserer (Arrival) implies people who were crazy beforehand are unaffected, though what degree of crazy or mental instability is up to interpretation. These people worship the monsters and actively try to force others to look at them, to also be enlightened. This could have been an interesting addition to the world of Bird Box but it plays it too straight. These cultist people are just another obstacle, a group of standard movie crazy killers. I was hoping that the screenplay was playing coy with this subject and biding its time only to introduce this group in a more meaningful and manipulative fashion later. It never happens. They're just crazy killers meant to enter buildings and pose a new indoors threat. Now you can't trust anyone! The structure of Bird Box constrains the overall impact of its story. The movie is divided almost equally between two different timelines, one shortly after the start of the monster attacks and one five years later. I was waiting for these two different storylines to inform one another, and they do in essentially superficial ways. We know in the future story that it's only Sandy and the kids, so it's only a matter of time before everyone in this house will end up dead. It also hurts that this segment is best described as "dime store Stephen King." We're stuck with a group of strangers who have all been given one note to play, therefore the extra time feels tedious because we don't care about them or what happens to them next (sorry John Malkovich, Jacki Weaver, BD Wong, and others). Winnowing these extended flashbacks and sticking with the current day storyline would have improved the movie. There's a more immediate threat and it presents a more intriguing scenario of being on the run and learning as we go about the monsters and the accrued survival tactics. I think learning on the run would be more exciting rather than conveniently finding refuge with a guy who explains everything because he was doing a book report on the supernatural and somehow knows the rules. This would also better hone the theme because the "before" of our before-and-after dynamic doesn't establish Sandy enough as a disinterested mother. Much of this could be forgiven or mitigated if the suspense sequences were engaging and smartly developed. I can forgive any nagging plot quibble with A Quiet Place (Why don't they live closer to the waterfall? Why don't they have a sound system to draw away monsters?) because the suspense sequences were brilliantly executed and highly unnerving. This just isn't the case with Bird Box. There is one clever sequence that seems to capitalize on the possibilities of its sight-challenged premise. During the house half, the gang climbs into a car and uses its motion sensors and GPS to navigate a trip to the local grocery store for a supply run. It's fun and decently staged. The inclusion of caged birds being a monster alarm is interesting until it starts to become more ridiculous. People never seem to listen to these birds and pay the price. The initial outbreak in the opening, with cars flipping and people flipping out, has a nice escalation into madness and chaos. The movie never quite recovers that same tense feeling. Watching people wander with blindfolds doesn't make for great visual tension unless we see what they do not and dread what's to come. Bird Box settles into a generic paranoia thriller about who can be trusted, and that's even before the crazy cultists come knocking. Outside in the woods, the final act involves running to sanctuary, but without the killer cultists, it's only running away from a thing that can't touch them. It makes for a curiously inept climax and a sentimental resolution that feels unearned. The arc of the movie is about Sandra Bullock's character accepting motherhood and attachment to others but this theme is murky. She named her children "Girl" and "Boy" because she didn't want to think of them as her own. This is the kind of thing that seems more symbolic and meaningful in theory than practice. She tells the children that in order to survive in this brave new world that they must be ready to cut another person loose at any moment. Attachments to others will get you killed, or so Sandy argues but not in deed. Because this storyline covers half of the film, the relationship she has with the kids feels underdeveloped but not by Sandy's choice, by the filmmakers. If Sandy's character arc was going to end at the destination of her realizing love is not a detriment even in a horrible, terrifying world, then we needed more time spent on this emotional journey, which is another reason why we could have used more time in the present-day storyline. A degree of self-sacrifice feels missing to better signify the theme of attachment and the emotional stakes. I reiterate that Bird Box is not worth the strong feelings of love or hate. It's got a wobbly structure where either half fails to better inform the other, the limitations of the monsters guts too much of the tension and stakes, and the actors deserve better. Bullock delivers a strong central performance and serves as our entertainment anchor. She makes the movie more watchable and does her best with some less-than-stellar expository dialogue. It's enough to make you wish this movie was better and better realized with its spooky premise. Nate's Grade: C
Nate Zoebl
Super Reviewer
The film has definitely showcased its capability of being memorable through today's social media "meme-worthy" barrage. But it shouldn't go unnoticed how the aura of its ambiguity keeps Bird Box intimate and perilous throughout, especially with a strong and brilliant lead in Sandra Bullock. 4/5
Eugene Bernabe
Super Reviewer
½
When looking at movies like Avatar or even direct remakes of classic movies, it's a fair criticism to hate on it for being unoriginal, but in the same breath, there's also an argument to be made for why it also worked so well for audiences around the world. Familiar storytelling has been around since the beginning of cinema and isn't going anywhere anytime soon. Netflix's Bird Box is another example of this but done in an effective way. Taking the world by storm in the online community, this film has received quite a bit of praise by fans, and while I don't believe it's particularly that great, I did have positive viewing experience with it. This movie does many things right, but it stumbles quite a few times along the way. Here's why Bird Box may be worth your time, but also why there are plenty of other movies worth seeing first. The world has been overrun by a disease that has turned people into zombie-like creatures. With weird, unseeable figures making people kill commit suicide, the survivors have turned to wearing blindfolds to stay alive. Survival movies have been around forever and it's very rare that one does something new for the genre, and while Bird Box doesn't really do that, it tries to. Sadly, this movie is going to be compared to 2018's A Quiet Place, due to the fact that instead of not being able to look, that film was about not being able to speak or make a sound. On top of that, the ambiguity of A Quiet Place has been lost here and it really does feel over-explanatory on quite a few occasions. Bird Box begins with the main event having already happened and follows Malorie (Sandra Bullock) and two unknown children characters. I would've loved to see a survival film with these three characters for the full two hours, but the majority of this film actually takes place in the recent past, showing how this situation came to be. While that may work for some viewers, this was the main aspect that almost had me disliking this film. If it was just going to keep cutting away in order to beat the audience over the head with an explanation I would've been upset, but it does focus on the past more than the present. For that reason, I ended up becoming a little more forgiving, as some of the characters leading up to the present were very likeable. Sandra Bullock delivers a great performance here and held this movie together even through its weak moments. Joined by incredible talents in performers like John Malkovich, Sarah Paulson, and Jacki Weaver to name a few, the true standout of this film was Trevante Rhodes, in my opinion. Ever since his breakout performance in the Oscar-winning Moonlight, I have been rooting for him to become an A-List star. Even though that hasn't happened for him yet, I believe his time may still come. I think he's a very talented actor and his screen time with Bullock leapt off the screen. In the end, Bird Box isn't going to be remembered by most people as one of the best movies of 2018, but I can definitely see why people are loving it. It's a film that explores multiple genres at once and makes for a very enjoyable experience overall. I admittedly haven't seen the majority of Susanne Bier's work, which is mostly due to the fact that they're foreign movies that I have yet to seek out, but I have seen her previous American film in Serena, which was quite bad in my opinion, so Bird Box was a very nice surprise. I had a very good time with this film and I will absolutely be seeking out this director's previous works. I recommend a watching this on your free time, but it's not something demanding to be watched.
Bird Box Quotes
There are no approved quotes yet for this movie.