L'uccello dalle piume di cristallo (The Bird With the Crystal Plumage)
(1970)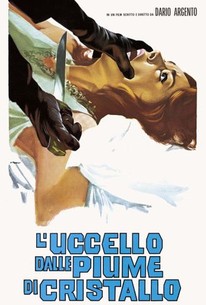 TOMATOMETER
AUDIENCE SCORE
Critic Consensus: Combining a deadly thriller plot with the stylized violence that would become his trademark, The Bird with the Crystal Plumage marked an impressive horror debut for Dario Argento.
L'uccello dalle piume di cristallo (The Bird With the Crystal Plumage) Photos
Movie Info
This trend-setting thriller put its director, Dario Argento, on the international map and began a flood of imitative mystery-horror hybrids which dominated Italian genre output in the early 1970s. Tony Musante, best known for the television series Toma, portrays an American who witnesses the murder of a woman at a trendy Rome art gallery. Before long, Musante finds himself targeted by a mysterious killer. Based on a story by Byron Edgar Wallace, Bird and hints at the flamboyance which would become Argento's trademark. This and Argento's subsequent two films Il Gatto a Nove Code and Quattro Mosche di Velluto Grigio were much less horror-oriented than his later work. ~ Robert Firsching, Rovi
Critic Reviews for L'uccello dalle piume di cristallo (The Bird With the Crystal Plumage)
Audience Reviews for L'uccello dalle piume di cristallo (The Bird With the Crystal Plumage)
½
Dario Argento's directorial debut is a stunning achievement in horror. The start of an excellent career is showcased on screen. What you have with Bird With The Crystal Plumage is a solid horror Giallo that is quite possibly Argento's most solid picture.Bird With The Crystal Plumage is a fine Giallo picture, probably the best of it's kind. Every Argento fan should seek this one out. What makes this film succeed is the eerie atmosphere than Argento paints added by Ennio Morricone ominous score. This is a classic of Italian horror, and I find it almost an insult that people try to compare this film to anyone of Hitchcock's films. Argento and Hitchcock are two different kinds of directs and both have made their mark in horror history. This is an intense horror film that brings genuine chills to the viewer and is by the films end, you are in awe at how powerful the horror is. Bird With The Crystal Plumage is one of the best Giallo films that I've seen, only matched by Lucio Fulci's Don't Torture A Duckling and Argento's own Deep Red. Bird With The Crystal Plumage is an accomplished horror film that is brilliantly directed by Argento. A must see for fans of horror, and this is one of the best films that Dario Argento has made. A unique film thats not easy to forget. The film is bold and tense, and relies on atmosphere to create effective terror. A classic worth seeing.
½
Very fine debut that set the trend for giallo for the next half dozen years. The seeds of the genre had already been sown but here Argento strikes out stylishly and makes a massive mark. It was interesting watching this again after having seen so many giallo since first seeing this and seeing just how much influence this had been. There are elements, particularly visually, that we will see developed in later Argento films as well as the many imitators. So many red herrings and unanswered questions, of course, but by now we are used to that and others would be freed by this incompleteness to go on and create marvellous colourful multi-layered nonsense for us all to revel in. The Morricone score must also be mentioned for it is of monumental proportions covering the widest range possible from the children's voices through symphonic passages and to the almost abstract.
Cassandra Maples
Super Reviewer
I'm not extremely familair with the subgenre known as giallo, but my research tells me that it is Italian ficttion with emphasis on horror/thriller, and mystery elements, or something like that. I've actually seen two such films before this one, but didn't know they were apart of some sort of established tradition. Since I liked those, and enjoyed this, I may in the future seek out some more of these types of movies. From that rambling description above, you should basically have gotten that this is a msytery thriller/ slasher/serial killer type of movie. I can't really go into too many details without giving too much a way, but let's just say that plenty of American films have borrowed if not stolen from this, and other similar Italian films. It is an Argento film, and his first if I'm not mistaken. It is beautifully shot, fairly violent, and absolutely overflowing with tension, suspense, and great mood, atmospohere, and tone. The music by Ennio Morricone is suitably creepy, and all of this makes up for the fairly flimsy plot which might be the weakest thing at play here. It also feels very Hitchcokian, too...which is of course a good thing. An American man finds himself caught up in an odd series of murders in Italy, and must work with the plocie to try to solve an ever increasing epidemic of serial murders, while along the way looking out for the safety of himself and his wife. The pacing could have been a bit faster, but the murder setpieces are well done, and this is a pretty enteraining film. The ending leaves a bit to be desired, but it isn't enough of a letdown to warrant a harsher grade. All around some decent stuff, especially if you like some artsiness with your violence.
Chris Weber
Super Reviewer
L'uccello dalle piume di cristallo (The Bird With the Crystal Plumage) Quotes
There are no approved quotes yet for this movie.