Bitch
(2017)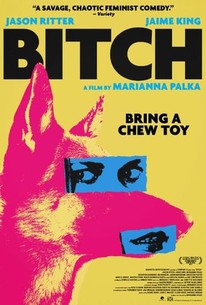 TOMATOMETER
AUDIENCE SCORE
Critic Consensus: Bitch has an intriguing premise and a strong start that hints at greater things for writer-director-star Marianna Palka, even if its reach ultimately exceeds its grasp.
Movie Info
BITCH tells the powerful and darkly humorous story of a housewife who, after her philandering husband and unruly kids break her psyche, upends the family dynamic by assuming the persona of a vicious dog.
News & Interviews for Bitch
Audience Reviews for Bitch
First things first, for some reason, I don't know why I'm doing this, but let's talk about people purposely tanking movies, that they haven't seen for reasons known only to them. Some group of alt-right assholes, because that's what they are, decided to tank Black Panther because of its all black cast. Because, apparently, having movies be marketed toward the white male power fantasy audience for DECADES on end doesn't matter when ONE superhero movie has a predominantly black cast being, *GASP*, heroes. A Wrinkle In Time was also tanked because of its casting diversity because, again, that's a fucking bad thing. A Wrinkle In Time received mixed reviews and some people, probably come conservative dumbfucks, were complaining that you can't criticize a film directed by a woman of color because you'll be deemed racist. No, that's not the point, you fuckers, nobody ever said you can't offer legitimate criticism toward a movie you legitimately don't like, diverse cast or not. What's not a valid opinion is you criticizing a movie just because its cast is diverse and its director is a woman of color. That's not a valid opinion, because it doesn't focus on the film's content itself. The reason I bring this up in relevance to this flick, is because I thought this was a considerably better rating than the audience score on RottenTomatoes implies. RottenTomatoes has more idiots scoring on it than LetterBoxd, which has always had more...intelligent discussions among its reviewers, from what I've gathered. That's not to say RT doesn't have its well-thought out and reasoned audience reviews, it's just that they're drowned out by idiots more often. Anyway, while the average scores on LetterBoxd and RT for this movie are similar, 2.9 to 2.8 respectively, I wonder if some on RT tanked it because it was a movie with feminist ideals and a *GASP* exploration of how some men take the women in their lives for granted, feeling that they can step over them and force them to do everything around the house, which, if they have kids, is made three times worse, while they get to do what they want. We can't have that, can we? We need to have established gender roles, right? Women stay in the house, cook, clean and take care of the kids, while the men get to go to work. That's the way it has always been and that's the way it should always be, for some of these idiots whose ego is way too fragile. Anyway, though, I legitimately really enjoyed this movie quite a bit. Perhaps, conceptually speaking, as the RT consensus says, its reach might exceed its grasp. But I did like how they used the concept of Jill's psychotic break to explore the family dynamics and how Bill, realistically speaking, needs Jill more than Bill believes Jill needs him. I've always enjoyed Jason Ritter's work, he's really talented and he just seems like a really fucking likable guy. But, from what I've seen, I don't think he's ever really gotten the chance to sink his teeth into a role quite like this, a role that requires him to be a selfish asshole for the majority of its running time. And, quite frankly, Ritter succeeds at it. He's so utterly detestable for a good chunk of the film that you're really kind of glad that this has happened to him. Again, his wife had to give up her career, she has to take care of four kids (two teens and two smaller ones, THE worst possible combination), she has to take care of everything around the house, get the groceries, clean the house,she has to buy the gifts for her children, Bill's father and even for herself and sign the cards with Bill's name. Jill's job is thankless and Bill, obviously, takes her contributions around the house for granted. He treats her like a doormat and, quite frankly, Jill's invisible to Bill. So much so that, the first scene of the movie is Jill's failed suicide attempt. She uses Bill's belt to hang herself from a lighting fixture, the lighting fixture, obviously, doesn't hold. She keeps Bill's belt around her neck, goes to bed and waits for him to go home. When he does arrive and come to bed, he notices his belt around Jill's neck, takes it off of her and just puts it back where it belonged. He, literally, never even wondered why his belt was around his wife's neck. He asked if that was his belt, removed it and that was it. That's a new level of invisibility. Naturally, when Jill uses this chance to talk to Bill about wanting to go on a painting retreat, Bill immediately puts the kibosh on that, saying that he needs her at home. It's no wonder this woman suffered a psychotic break and started acting like a dog. The movie definitely does use this for comedy, as you get to see Bill, for the first time in his life, actually have to take care of his kids himself. Getting them ready and taking them to school whose names he doesn't know with teachers whose names he, also, doesn't know without preparing lunch for them. He was already stressed the fuck out 2 hours into it and, yet, his wife had to do this every day for who knows how long. So there's a good bit of comedy from that, just how much a failure Bill is as a father. Bill reacts selfishly towards Jill's actions because, instead of sitting down and trying to realize what it is that happened that made her break down, he starts taking it as a personal attack. Jill needs help and she has needed help for a long time, she was cornered into this situation by Bill's mistreatment and refusal to acknowledge her needs. Jill's sister comes over to help out with the kids and, Bill, in spite of showing some SLIGHT change, ends up doing the same thing with her. She ends up doing everything around the house while Bill does, I don't even know what, since he's home quite a lot. The movie sort of shifts tones midway through, the movie's tone is definitely satirical in how it disassembles the concept of gender roles in the family, but the movie becomes more serious in exploring the dynamic of how and why Bill is the way he is and how he, very slowly, comes to the realization that he did do something wrong and what he needs to do to change it. It's a rough road, naturally, since Bill resists every attempt anyone makes at taking Jill to a mental facility. Part of it is Bill's need to control every aspect of the situation at all times, since not doing so apparently makes him feel inadequate or something, and MOST of it is the embarrassment it's gonna bring on him to have a wife who's in a mental institution because she's acting like a dog. So, yes, Bill's selfish ways are still readily apparent. But, again, there comes a shift in the movie and Bill starts making the necessary changes in his life, starting with getting his wife the help she really does need, and he actually starts connecting with his kids instead of just seeing them once a day every morning before he goes to work. I think the shift works because, again, Jason Ritter is so good at what he does that, even though he's been a massive asshole the entire movie, you still root for him to change and when that change does come, while it does feel a tad sentimental at times, for example, like the scenes where he connects with his children, it does end up working in the long run. It does feel sentimental, but I feel that these characters earned that. The movie is so well-written and well-acted that I feel it doesn't betray what the film was trying to achieve. In fact, the last scene of the movie is very simple, but surprisingly really sweet. Don't know what else to say about this. Perhaps the only complaint I might have, and it's a minor one, is that the family drama aspects, like Jill's sister and her parents taking Bill to court for legal guardianship of Jill, feels a little too generic. It's not that this is the most original film in existence, but so much of the movie is just out there and crazy, that the legal drama later in the film just feels too bland for what the movie is trying to do. I'm not saying it's bad, since the scene where Jill's parents make the case, during mediation, to take Jill, leads to Bill's realization that he's undervalued his wife for years. So now, I have to decide whether to give this movie 3 or 3.5 stars. To be honest, I definitely liked it. I liked the concept and the execution of it, not to mention a great lead performance from Jason Ritter, but I don't know if I felt that this was a very good movie, per se. Marianna Palka is clearly a very talented writer, director and actress, but I think her best is yet to come. I enjoyed it, so I'd definitely recommend this as a Netflix watch, though not if you're a men's rights activist. Though I'd love to see them pissed off at this movie, too. So, you know what, watch it even if you're an MRA. Your anger sustains me.
Jesse Ortega
Super Reviewer
Bitch Quotes
There are no approved quotes yet for this movie.