Bitter & Twisted
(2008)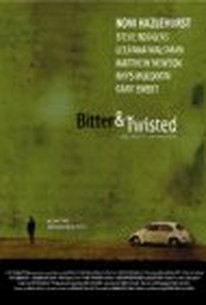 Movie Info
In the wake of a tragic and untimely death, a suburban family starts the slow slide into disintegration, their deep malaise manifesting itself in a profoundly personal crisis for each grieving member of the once-happy family. It's been three long years since Liam Lombardo died, and time has yet to heal the emotional wounds suffered by his parents and troubled younger brother. When father Jordan drifts into a dangerous cycle of depression and overeating, his boss at the car dealership threatens to lay him off unless he makes a sale quick. Meanwhile, delusional mother Penny is convinced that she has gotten pregnant, and realizes that she has in fact entered into the early stages of menopause. His parents struggling desperately to sort out their own personal issues, son Ben can't quite figure out whether he's gay or straight despite the fixation he has on his late brother's former girlfriend - who lives across the cul-de-sac and has recently entered into a regrettable affair with a married man. ~ Jason Buchanan, Rovi
Critic Reviews for Bitter & Twisted
Audience Reviews for Bitter & Twisted
Very surprised by the negative reviews on this. I actually thought it was a really good little Australian slice of life film. I found a lot of this really rang true, very relatable. It's not exactly a feel good film as it is about a family who have been through a trauma with the death of their adult son. The father is eating himself to death and unhappy at work as a really bad car salesman. The mother is feeling her age and like her life is over. I found her character especially good. Their other son is chasing around the girlfriend of his dead brother, who is meanwhile involved with an older married man - you get the idea! Not a happy group of people. Recommended if you don't need a movie that is all happy and not true to life. Personally I liked this a lot.
Nicki Marie
Super Reviewer
Bitter & Twisted Quotes
There are no approved quotes yet for this movie.