Bitter Moon
(1992)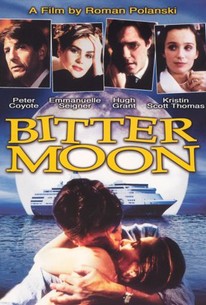 Movie Info
Roman Polanski, Gerard Brach, and John Brownjohn adapted Pascal Bruckner's novel for this erotic, funny, and frequently twisted story of a shipboard romance that has a decidedly sadomasochistic edge. Cinematography by Tonino Delli Colli; score by Vangelis.
Critic Reviews for Bitter Moon
Audience Reviews for Bitter Moon
Normally I love Polanski's work, but I didn't know what to think of this movie. First of all it's really long, and there's a lot of talking. There are a lot of erotic scenes, and most of them are good. I didn't know weather I liked it or not, but overall it's an okay thriller/drama.
There are some people who would have you believe that Polanski made little of worth between "Chinatown" in 1974 and his critical comeback "The Pianist" in 2002. I may be biased but I can find something great in just about everything he shoots and I would rate this as one of his best movies. It's a dark and disturbing but blackly comic tale of an obsessive and destructive relationship. Polanski often struggles to bring a film in under two hours, and he doesn't do so here, but it's compulsive viewing from start to finish. Peter Coyote is magnificent and Hugh Grant's stammering upper-class-twit act has never been used to better effect. On the downside, Vangelis' soundtrack is very dreary.
Polanski accomplishes another quest for love in the depths of hell. an outstanding and upsetting erotic drama. Peter Coyote completely steals the movie.
Pierluigi Puccini
Super Reviewer