Bitter Victory
(1957)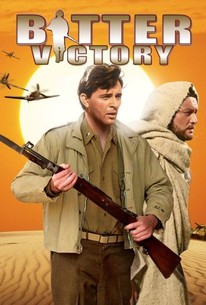 Movie Info
A commander receives an undeserved citation for an attack on Rommel's headquarters. Unbeknownst to him, his wife is having an affair with one of his officers.
Critic Reviews for Bitter Victory
Audience Reviews for Bitter Victory
In "Bitter Victory," General Paterson(Anthony Bushell) is in a bit of a pickle with a sudden dangerous mission to steal documents behind enemy lines in Benghazi requiring recruits. Major Brand(Curt Jurgens) is an obvious choice, especially considering his experience. Even though Captain Leith(Richard Burton) is very familiar with Libya, Paterson has doubts about him, especially about his being an intellectual...and Welsh. But that doesn't mean Brand and Leith have nothing in common, like say Brand's wife Jane(Ruth Roman). "Bitter Victory" is an offbeat war movie with some interesting casting(Jurgens playing a hero on dry land while Richard Burton is not yet Richard Burton) and very good use of location photography being the main points of interest. While Brand and Leith are outsiders(yes, I know Brand is a white South African but that's a conversation for another time), the movie attempts a psychological portrait of war. The fact that it takes the most cliched approach possible(of all the suicide missions in this war, you had to choose this one...) including a shaky resolution is a huge shame and lost opportunity.
½
one of ray's more neglected films, it's a stunning black and white widescreen character study of the intense struggle between two british officers on a hopeless mission in the libyan desert. i somehow never realized before that richard burton was hot at one point in time
Stella Dallas
Super Reviewer
Stark drama of principles in wartime. Excellent performances from the three leads. Ruth Roman's part is small but integral to the plot and she makes the most of it.
Bitter Victory Quotes
There are no approved quotes yet for this movie.