Biutiful
(2010)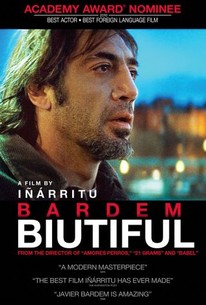 TOMATOMETER
AUDIENCE SCORE
Critic Consensus: Javier Bardem's searing performance helps to elevate Biutiful, as does Alejandro González Iñárritu's craftsmanship, but the film often lapses into contrivance and grimness.
Movie Info
Biutiful is a love story between a father and his children. This is the journey of Uxbal, a conflicted man who struggles to reconcile fatherhood, love, spirituality, crime, guilt and mortality amidst the dangerous underworld of modern Barcelona. His livelihood is earned out of bounds, his sacrifices for his children know no bounds. Like life itself, this is a circular tale that ends where it begins. As fate encircles him and thresholds are crossed, a dim, redemptive road brightens, illuminating the inheritances bestowed from father to child, and the paternal guiding hand that navigates life's corridors, whether bright, bad - or biutiful. -- (C) Roadside Attractions
Critic Reviews for Biutiful
Audience Reviews for Biutiful
½
This sad and depressing drama wants to rely on an unbearable sense of tragedy that doesn't always feel genuine, but even so it benefits from a strong performance by Bardem, who is able to inject some complexity into his character despite the rather artificial plot.
Carlos Magalhães
Super Reviewer
½
"Biutiful" is a near masterpiece of human suffering, dank realism, and redemption; being that this is the fourth film from the acclaimed Iñárritu, you should already get the hint that it tends to focuses on the former instead of the latter. Make no mistake, this is a heavy film in every sense of the word, and that might isolated viewers. But "Biutiful" is more than it's plot synopsis suggests. Iñárritu balances many complex themes effectively, and though the tale concerns a dying man coming to terms with it's predicament, "Biutiful" doesn't pigeonhole itself. It's as expansive and broad as the director's ambitious, multicontinental opus "Babel" from 2006. Javier Bardem gives one of the performances of his career here, and is the reason that the picture is so emotionally devastating and honest, without feeling forcefully so (which is miraculous considering the pigment of it's subject matter). It's a testament to the films craft that even it's unexpected supernatural elements are handled with such conviction, never making a conflict in tone or logic. Unrelentingly Grim, and yes...beautiful, this is in many ways Iñárritu's finest work to date. Same goes for Bardem.
½
Biutiful is a long, endlessly bleak gloomfest made worthwhile by a transcendetal performance by the great Javier Bardem. The talented filmmaker Alejandro Innaritu provides a backdrop rich with detail and atmosphere. All his other tragic films, (worth seeing) contain multiple story lines, in the case of Babel, set all over the world, but somehow tied together. These multiple story lines somehow leaven the atmosphere and make the films very eclectic and watchable. Here, for the first time, he focuses on the devastation of one guy in one self contained scenario - and what devastation! And unlike the book of Job, there's no interesting debate on the nature of god or an explanation of the meaning of it all. The setting is present day Barcelona among the underclass of illegal immigrants, smugglers, hooker and drug dealer/users. What I quarrel with is that Innaritu has jam packed the woes suffered by Bardem to include, just for a start!!, terminal cancer, two cute kids, who happen to have an irresponsible hooker addict mother (who is sleeping with Bardem's brother), Bardem being complicit in the mass murder of illegal Chinese immigrants who work in a hidden sweat shop. The thrust of the drama is wondering whether Bardem will find a way to get his affairs in order before his inevitable death a few weeks hence. There's almost no break for the tragedy, and therefore, one becomes benumbed to the pain quite early in the two hour and forty five minute running time. I don't know what message he's after here other than life sucks and everyone you're close to will always let you down and the kids will be the ones to suffer. Also, if you think the lovely Gaudi buildings will at least give some visual relief from the misery, you'll be let down. They are never shown. Instead, it's the mouldy appartments and mean streets of the armpit of Barcelona. If this wallow in hell appeals, it's certainly worth a rental, and Bardem is really worth watching. The real tragedy is that his performance was not in a more balanced and multi-faceted film, but in a dirge like wallow of misery.
Josh Morris
Super Reviewer
Biutiful Quotes
| | |
| --- | --- |
| Tito: | It's dangerous to trust a man who is hungry. |
| | |
| --- | --- |
| Ana: | What is it? A booger? |
| | |
| --- | --- |
| Uxbal: | Don't forget me, my love, please. |