Black and White
(2002)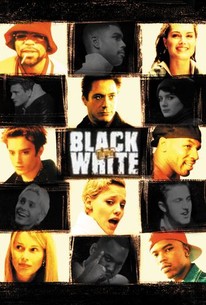 TOMATOMETER
AUDIENCE SCORE
Critic Consensus: The atmosphere is affecting, and the story, at times, is compelling, but with a lean script and limp direction, Black and White doesn't add up to much.
Movie Info
The inner workings of the New York hip-hop scene, and the fascination of white observers with rap music and hip-hop culture, set the stage for this drama written and directed by James Toback. Rich Bower (Power) is a mover and shaker in the world of rap music (he's involved with a number of other licit and illicit business ventures as well), and his apartment is a favored meeting place for musicians, hangers-on, and hipsters who want to seem cool, including a clique of white kids who want to be on the inside of whey they consider the coolest scene of the day. Sam (Brooke Shields), a filmmaker, is making a documentary about Rich and his circle, with the help of her husband Terry (Robert Downey Jr.), a closeted homosexual who doesn't feel at home in this milieu. Dean (Allan Houston) is a talented college basketball player and Rich's friend since childhood who is offered a deal by a bookmaker, Mark (Ben Stiller) to throw a few games for a price. Dean takes the money against his better judgment, and he soon realizes how much of a mistake he made when Mark turns out to be a cop hoping to dig up dirt on Rich. Rich in turn discovers that Dean might be forced to tell what he knows to stay out of jail, and he decides that Dean has to be killed; however, rather than murder his friend himself, Rich asks one of the white kids who hangs out with him, who seems especially eager to prove himself, to do it for him. The kid, however, is actually the son of the District Attorney. Also contributing to Black and White's supporting cast are controversial boxing legend Mike Tyson, musician Bijou Phillips, Wu Tang Clan rapper Raekwon, model Claudia Schiffer, and Donald Trump's former spouse Marla Maples.
Critic Reviews for Black and White
Audience Reviews for Black and White
I'm sure I'd reviewed this film on Flixster but apparently not. Anyway, Black & White is a pretty unmemorable comment on race and culture, but there is good improvising from a typically excellent Robert Downey Jr.
Director James Toback is here evidentially trying to do a "Robert Altman" by splicing interweaving story lines, but to be honest the whole thing is pretty messy and actually quite contrived.
Daniel Parsons
Super Reviewer
½
Just a fine drama like documentary tale of race, class, and sexual boundaries blur in this voyeuristic tour of modern Manhattan in which privileged white kids reinvent themselves as gangstas, and African-American thugs morph into recording artists.
Dean McKenna
Super Reviewer
A film that tries to cast Mike Tyson as an intellectual is never going to be that good. Odd film that shows how some white kids think it's cool to act gangster. Also shows how a promising basketball player gets caught up in the illegal activities of his friends.
Black and White Quotes
There are no approved quotes yet for this movie.