Black Beauty
(1946)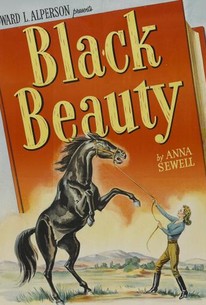 AUDIENCE SCORE
Critic Consensus: No consensus yet.
Movie Info
Black Beauty, Anna Sewell's classic tale of a beautiful horse is adapted in a disappointingly flat fashion by independent producer Edward L. Alperson. Unlike the novel, which is told from the horse's point of view, the film concentrates on the animal's first owner, a young English girl (Mona Freeman). Raising the horse into a prize-winner called "Black Beauty," the motherless girl is thrown into a panic when Beauty disappears. She locates the horse in a barn that is about to catch fire; knocked unconscious, the girl is saved by the valiant Beauty. The film's script utilizes only one of the many episodes in Sewell's 1879 novel, and not the most fascinating one at that. Had Black Beauty been produced by 20th Century-Fox instead of merely being released by the studio, the film might have had the saving grace of Technicolor photography.
Critic Reviews for Black Beauty
All Critics (2) | Fresh (1) | Rotten (1)
The perfect job of casting the title role in Black Beauty is about the only redeeming feature of the picture.
Adaptation focuses on young girl and romance, not the horse.
Audience Reviews for Black Beauty
If you've seen one horse movie, you've seen them all. The same goes for the Black Beauty movies, they're all the same.
Black Beauty Quotes
There are no approved quotes yet for this movie.