Black Christmas
(2006)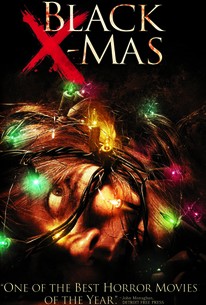 TOMATOMETER
AUDIENCE SCORE
Critic Consensus: A gratuitous remake of the 1974 slasher, Black Christmas pumps out the gore and blood with zero creativity, humor, or visual flair.
Movie Info
Billy, a young boy, was abused by his mother as a child. His mother cheated on Billy's father, and eventually killed the man, while keeping Billy in the attic--for good, while she was with her lover and starting a "new" family. As Billy's mother fell pregnant with a daughter and treated her with the love he had never experienced, Billy came out of the attic after years and brutally murdered his mother and her lover. Cut to present day, a group of six sorority sisters consisting of Kelli, Dana, Lauren, Megan, Heather, Melissa and their house mother, who now live in Billy's childhood home, find themselves being harassed by threatening and intimidating mystery phone calls during Christmas Break. As one of the girls goes missing, they begin being murdered one by one by no other than Billy.
News & Interviews for Black Christmas
Critic Reviews for Black Christmas
Audience Reviews for Black Christmas
½
Just another shitty remake in a world so full of many: unpleasant (but not in a good way), completely devoid of scares and with an awful, unimaginative plot in which no one is smart enough to call the police when things become seriously weird.
Carlos Magalhães
Super Reviewer
½
Unnecessary remake of the classic groundbreaking horror film of the same name, Black Christmas is a dull film that has everything you'd expect from a bad remake, bad acting, bad directing, predictable story and a poor cast. The original was a classic film that did not need to be remade. This film is not very entertaining, and relies on old ideas to create its horror. The end result is a film that simply doesn't work. As with nearly all remakes, Black Christmas is dull and is a disappointing film. There's nothing of interest that would make this film worth watching. The film lacks any depth to really make this one really stand out. The film navigates through constant mediocrity and overall ends up being an awful waste of time. Usually studios constantly remake horror classics such as Prom Night, The Hitcher Friday the 13th to name a few. Only a small handful were decent at best. But the Black Christmas remake suffers from a pointless story with bad acting that really tries too hard to entertain the viewer. Good horror films should be effortless in building the terror. However with this one, this is predictable and really bland with nothing new. As a slasher film, this remake doesn't do any that would make you expect the traditional good elements of what makes a slasher film so special. This remake is bland and predictable and is yet another remake that doesn't work because previously explored ideas that are just not intriguing. This should be avoided.
½
Classless remake of the brilliant original featuring a bunch of stuck-up, foul-mouthed sorority sisters who you really don't mind seeing get brutally eye-gouged by the maniacal Billy Lenz and his sister/daughter Agnes. It's fast-paced and fairly unpredictable as far as who lives and dies, but it lags a long way behind the original and other modern slashers too. Works well as an alternate Christmas movie for the miserable bastards that don't enjoy the fun and cheer of the holiday season. ;-)
Black Christmas Quotes
| | |
| --- | --- |
| Lauren: | Christmas is more about warding off evil spirits than Halloween. What Christmas shit in this room resembles anything Christian, huh? It's all neo-pagan magic. Christmas tree, a magical rite ensuring the return of the crops. The mistletoe is nothing but a conception charm. Fifth century Christians jacked a Roman Winter Festival - twelve days in December when the nights were long and the Earth was ruled by the demons of chaos. And fucking Santa Claus? This fat voyeur that watches you all year long to make sure you live up to his standards of decency before breaking into your house. And that is different from what Billy did, how? |
| | |
| --- | --- |
| Heather: | I'm really not okay with any of this. I mean, buying a Christmas present for a serial killer? |
| Melissa: | No. You see, serial killers murder repeatedly for sexual thrill. Billy Lenz was a spree killer - dude just fucking lost it. |