The Black Dahlia
(2006)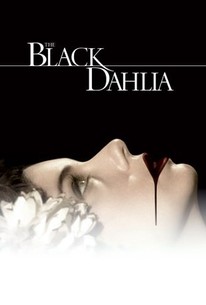 TOMATOMETER
AUDIENCE SCORE
Critic Consensus: Though this ambitious noir crime-drama captures the atmosphere of its era, it suffers from subpar performances, a convoluted story, and the inevitable comparisons to other, more successful films of its genre.
Movie Info
A tale of obsession, love, corruption, greed and depravity that revolves around a true story of the brutal murder of a fledgling Hollywood starlet that shocked and fascinated the nation in 1947 and remains unsolved today. Two ex-pugilist cops, Lee Blanchard and Bucky Bleichert, are called to investigate the homicide of ambitious silver-screen B-lister Betty Ann Short -- aka 'The Black Dahlia' -- an attack so grisly that images of the killing were kept from the public. While Blanchard's growing preoccupation with the sensational murder threatens his marriage to Kay, his partner, Bleichert, finds himself attracted to the enigmatic Madeleine Linscott, the daughter of one of the city's most prominent families -- who just happens to have an unsavory connection to the murder victim.
News & Interviews for The Black Dahlia
Critic Reviews for The Black Dahlia
Audience Reviews for The Black Dahlia
Based on James Ellroy's novel, that is in turn based on one of the most notorious unsolved murders of all time, this represents another step in Brian De Palma's increasing irrelevance. That's harsh, I know, but sadly it's true. This had potential to be good, and there's a great film to be made on this subject, but this isn't that film, and almost all of the potential is squandered. A major problem is that a lot of the time, the murder of wannabe actress Elizabeth Short takes a back seat to the story of the partnership between two detectives, and how the case (and other issues) are affecting them. It's plodding, meandering, and, while I'm okay with complex movies, this one is just too convoluted and messy for its own good. Not only that, but perhaps worst of all, you really don't care about the people or what happens. The film is populated by well known performers such as Josh Hartnett, Aaron Eckhart, Scarlett Johansson, and Hilary Swank, as well as wonderful character actor Mike Starr, but none of them really impress all that much. I do like how Eckhart, and especially Swank do these really pronounced "actor-y" accents, but they've all been far better elsewhere. Being De Palma, the film is shot well, with trademark camera moves, angles, and expressive lighting, but that's really the only highlight. The music is typical for period piece neo-noirs, but unfortunately just made me think more of the music from Chinatown than anything else. All in all, this is a real letdown. I like De Palma, or rather, I try to find enjoyment out of his place in film history, but it really bugs me that he's gone downhill, especially since I really don't know why.
Chris Weber
Super Reviewer
The Black Dahlia was a film that I was really looking forward to seeing. Upon its release, I saw it, and was very, very disappointed in what I saw. This was a film that had so much potential and it was wasted. Brian DePalma has a solid cast of actors, yet his direction is sloppy. I thought that the films premise was good, but halfway through the film, everything falls apart, and the film just drags on, and becomes boring, unimpressive and dull. I think if the film would have been trimmed slightly in length, and the material reworked, The Black Dahlia could have been a stellar mystery film. Unfortunately, not even the excellent cast can save this boring film. The film had plenty of potential to being great, but instead it suffers from long, tired scenes of painful dialogue and the film's story just lingers and goes no where and when there's something that actually is interesting that happens, it's too little too late. The end result is a film that doesn't satisfy and really just disappoints. I thought this film was ultimately terrible, and is one of DePalma's worst efforts. The film could have been good, but DePalma's directing is unfocused and doesn't know where he wants to take the audience, therefore we're left in a boring trance trying to figure out really what is going on. Well, that's not hard to guess, there's nothing going on here, except a potentially great mystery thriller that has been wasted by a director past his prime. That's about it. The Black Dahlia is a boring, dull film and if you're looking for an excellent murder thriller, this film definitely isn't it. I think it's a shame that Brian DePalma wasted such a varied cast of talented actors and I think that if the film would have been directed by someone else, this film would have turned out quite differently. Avoid.
Despite this brilliant cast with equally brilliant performances, I could tell from the very start that I wouldn't like this film. It's far too wordy and I just couldn't understand what was going on. It was very difficult to follow and felt like it lasted an age.
Sophie Burgess
Super Reviewer
The Black Dahlia Quotes
| | |
| --- | --- |
| Dwight 'Bucky' Bleichert: | The basic rule of homicide applies. Nothing stays buried forever. Nothing. |
| | |
| --- | --- |
| Emmett Linscott: | Hearty fare breeds hearty people. Haute Cusine breeds degenerates. |
| | |
| --- | --- |
| Dwight 'Bucky' Bleichert: | Who's this? |
| Madeleine Cathcart Linscott: | Balto. The paper is the L.A. Times for Aug. 1, 1926. Balto was bringing in the paper when Daddy found out he made his first million. And he wanted to consecrate the moment, so he shot him. |
| | |
| --- | --- |
| Kay Lake: | Do you have a girlfriend, dwight? |
| Dwight 'Bucky' Bleichert: | I'm saving myself for Rita Hayworth. |