Black Dog
(1998)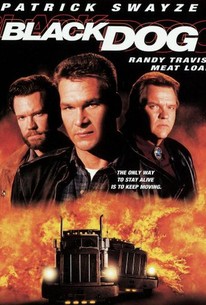 Movie Info
For Jack Crews, the rules of the road are simple: Don't look at the cargo. Don't question the route. And don't stop moving, if you want to stay alive. Jack's driving days were over until he got an offer he couldn't refuse. But what was expected to be a straight run up north has taken some unexpected turns. Now, the stakes are high as gun runners, government agents and a fleet of monstrous 18-wheelers pursue Jack in an intense highway duel.
Critic Reviews for Black Dog
Audience Reviews for Black Dog
½
I was expecting "Black Dog" to just be an average action movie, but I couldn't have been more wrong. Jack Crews (Patrick Swayze) has an assignment to deliver some illegal goods, but he don't know it at first. He has some riders to keep him company on the way, one of which is Earl (country singer Randy Travis). Meat Loaf also stars in this movie as the villain who tries his best to hijack the truck Patrick Swayze is driving. Things get out of hand when Jack's wife and daughter get kidnapped. Jack must find a way to save his family while also trying to stay away from the FBI who are chasing him. I didn't see anything wrong with "Black Dog." It's one of the best action movies I've seen in awhile and I didn't lose my interest in the film the whole time I was watching it. The explosions and action scenes aren't only awesome, they're realistic. All the actors do a great job, especially Patrick Swayze and Randy Travis. If you like great action movies, I recommend "Black Dog" as one of the best action movies of the year. NOTE: That was my Amazon review from the year 2000. This is indeed one of the more underrated action movies I've ever seen to this day, much like Breakdown with Kurt Russell. I mean, you never hear anything about them at all!
Jason Owens
Super Reviewer
Director Kevin Hooks' movie is a cheesy but sort of fun action flick that could have been better but also could have been worse. Some of the truck crashes are impressive although the actual chase scenes lack a little spark, they are okay but not quite as exciting as I'd have liked. The acting is OK, Patrick Swayze looks bored & embarrassed, Meat Loaf is Meat Loaf while Charles S. Dutton puts in a funny performance as a FBI agent.
Dean McKenna
Super Reviewer
With apologies to Andy Micak, I defy all of Flixster to find a Swayzier movie than this: it's worse than road house. How did Swayze EVER get work?? This is arguably the funniest movie ever made, but you're not supposed to be laughing... particularly bad are the bit players drudged up from community theatre to play Swayze's wife, the Chief Investigator and loveable loser Wes. While the action sequences were bearable - and thank god this movie was mostly action sequences - it is probably the worst-acted movie ever made... when Meat Loaf turns in a film's strongest performance, you're in serious trouble.
Daniel Perry
Super Reviewer
Black Dog Quotes
| | |
| --- | --- |
| Red: | Damn! Damn! Damn! You're finished Crews! Your ass is mine! |
| | |
| --- | --- |
| Agent Ford: | Oh spare us the physco babble will you! |
| Agent McClaren: | If you screw this up shithead I am not going down with you! |