Black Fist
(1975)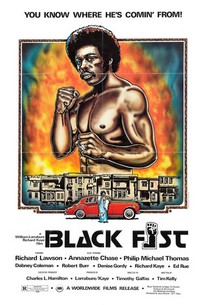 AUDIENCE SCORE
Critic Consensus: No consensus yet.
Movie Info
In this blaxploitation crime drama, a corrupt policeman becomes a street fighter for a crime boss's gambling ring. The film is also known as The Black Streetfighter and Homeboy on video.
Critic Reviews for Black Fist
There are no critic reviews yet for Black Fist. Keep checking Rotten Tomatoes for updates!
Audience Reviews for Black Fist
Movie 2 of The Blaxpolitation Triple Feature Collection put out by Diamond Entertainment. This movie was good except for the ending. It stars Richard Lawson as the main character, Leroy Fisk. Also Dabney Coleman is in rare form as Heineken (not to be confused with the beer), a crooked cop. Also you see Philip Michael Thomas (of "Miami Vice" fame) in here as a wino. The plot is that Leroy is a street fighter working for the mafia, which includes a bumbling black henchman named Avon. One of the funniest lines came from Avon in the beginning when the boss meets Leroy for the first time when he says, "I'll show you what a brother like me can do for a brother like you!" trying to be tough. Heineken, the crooked cop mentioned before, tries to get his cut of the pay from Leroy. It turns out the cop and the mob boss are in cahoots and Leroy wants out. (HERE COMES THE SPOILERS, SO PEOPLE WHO DON'T WANT TO KNOW HOW THIS TURNS OUT STOP READING NOW!!! YOU BEEN WARNED!!!) Well after earning a load of money from his last fight, Leroy buys a club and one night, his brother-in-law pays him a visit. But things take a turn for the worse when Leroy's car gets bombed, but his wife and brother-in-law are in the car. Leroy swears revenge on the mob boss. Heineken also gets his by Leroy locking him up in a meat locker at a butchery, virtually freezing him to death. (BIG SPOILER COMING UP!!!) This is where the movie takes a really bad turn. The mob boss's rival tell Leroy that everything has been taken care of and that he's #1 now. Leroy ends up wrestling with the guy who shoots himself accidentally while grabbing for his gun. Then Leroy starts to lose it and have flashbacks of all the events that led to this and he starts punching mirrors all over the place, and that's it. 3 Stars 1-21-14
Bruce Bruce
Super Reviewer
A streetfighter from the ghetto has a vendetta against the mob and a crooked white cop (Dabney Coleman). Boring formula movie; there's a reason why, when people discuss memorable blaxploitation features of the 70s, the name BLACK FIST never comes up.
Black Fist Quotes
There are no approved quotes yet for this movie.