Black Friday
(1934)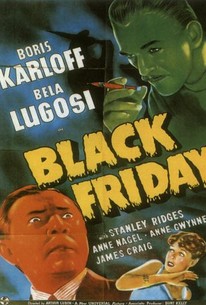 Movie Info
When his friend Professor Kingsely (Ridges) is at deaths door, brain surgeon Dr. Sovac (Karloff) saves his life by means of an illegal operation that transplants part of injured gangster Red Cannon's brain. Unfortunately, the operation has a disasterous Jeckll and Hyde side effect and under certain conditions the persona of Cannon emerges. Sovac soon learns of the duel personality and of half a million dollars the gangster has hidden away. He attempts to find the money through the manipulation of his friend, an attempt that brings Kingsley closer to madness as he alternates between a meek professor of english and a brutal gangster out for murderous revenge on those who tried to kill him.
Critic Reviews for Black Friday
Audience Reviews for Black Friday
The best Karloff/Lugosi teamup I've seen.Gangster's & a mad scientist trying to figure out where the $$$ at,A man who switches back & forth between a gangster & himself after a brain transplant.This flick is definitely something different
Brody Manson
Super Reviewer
This is a fantastic old horror movie, I really enjoyed it, and I highly recommend it. It has a good cast and story.
Black Friday Quotes
There are no approved quotes yet for this movie.