Black Hawk Down
(2001)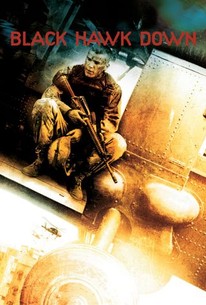 TOMATOMETER
AUDIENCE SCORE
Critic Consensus: Though it's light on character development and cultural empathy, Black Hawk Down is a visceral, pulse-pounding portrait of war, elevated by Ridley Scott's superb technical skill.
Movie Info
A quickly forgotten chapter in United States military history is relived in this harrowing war drama from director Ridley Scott, based on a series of Philadelphia Inquirer articles and subsequent book by reporter Mark Bowden. On October 3rd, 1993, an elite team of more than 100 Delta Force soldiers and Army Rangers, part of a larger United Nations peacekeeping force, are dropped into civil war-torn Mogadishu, Somalia, in an effort to kidnap two of local crime lord Mohamed Farah Aidid's top lieutenants. Among the team: Staff Sgt. Matt Eversmann (Josh Hartnett), Ranger Lt. Col. Danny McKnight (Tom Sizemore), the resourceful Delta Sgt. First Class Jeff Sanderson (William Fichtner), and Ranger Spec. Grimes (Ewan McGregor), a desk-bound clerk getting his first taste of live combat. When two of the mission's Black Hawk helicopters are shot down by enemy forces, the Americans -- committed to recovering every man, dead or alive -- stay in the area too long and are quickly surrounded. The ensuing firefight is a merciless 15-hour ordeal and the longest ground battle involving American soldiers since the Vietnam War. In the end, 70 soldiers are injured and 18 are dead, along with hundreds of Somalians. Black Hawk Down was voted one of the top ten films of the year by the National Board of Review prior to its limited Oscar-qualifying release. On the basis of his work in this film, co-star Eric Bana, a relatively unknown Australian actor playing Delta Sgt. First Class "Hoot" Gibson, won the lead in director Ang Lee's version of The Hulk (2003). ~ Karl Williams, Rovi
Critic Reviews for Black Hawk Down
Audience Reviews for Black Hawk Down
Ridley Scott takes on the subject of war. Everybody does their best as a technologically advanced American crew of expert soldiers work to extricate key figures in a dirtwater African town torn apart in a civil war --- until it all goes wrong, big-time. Hold onto your seats, it's going to be a bumpy ride, hoorah. Blistering combat, don't say I didn't warn you. For giggles try to spot the foreigners playing Yanks, I dare you. Having a weekend allnighter? Do a doubleheader with Zulu, with Michael Caine, another whiteys against the rampaging darkies show.
Kevin M. Williams
Super Reviewer
Not just a thoughtless quip-and-rip action blockbuster - decently memorable characters, precise tactical narrative, and a good amount of heart. And surprisingly, bridging the edge of my gore tolerance but not too overwhelmingly violent for me.
Letitia Lew
Super Reviewer
½
An American Black Hawk helicopter is shot down during a raid on a Somali warlord in Mogadishu leading to a desperate rescue mission faced with overwhelming opposition. In Black Hawk Down, Ridley Scott has created one of the most realistic war movies ever made. You really feel like you're in the thick of an urban warzone and the excellent ensemble cast make for very believable protagonists. It's usually a fine line between respect for the bravery of the fighting man and macho, gung ho bullshit, but Scott stays on the right side by focussing on the loyalty between comrades fighting for each others lives rather than the usual "God And Country" crap that many war films fall back on. It laso concentrates on the fact that despite what the propaganda machine may have us believe, modern warfare is, as ever, concerned with the brutal, harrowing deaths of many young men as the film has a lot more in common with The Alamo or Zulu than Jarhead or The Hurt Locker. It takes a lot of stylistic cues from Apocalypse Now making for artful visuals that are attractive without ever compromising the visceral realism of combat and despite a rather dry opening full of military jargon and diagrams, as the situation gets more desperate and the fighting more intense, it gets better and better. It's true the film doesn't really explore the political context of the conflict and the Somali side of the story is largely ignored, but what is presented on film is executed to perfection. One of the best modern war films around.
Black Hawk Down Quotes
| | |
| --- | --- |
| Ranger Lt. Col. Danny McKnight: | Nothing takes 5 minutes |
| Ranger Lt. Col. Danny McKnight: | Nothing takes 5 minutes. |
| | |
| --- | --- |
| Twombly: | We almost fucking killed you! Well, come to us! |
| Yurek: | Fuck you! Come to me! |
| | |
| --- | --- |
| Ruiz: | Don't go back out without me. |
| | |
| --- | --- |
| Steele: | Anybody comes thru dat door, u giv him 2 in the chest and one in the head |
| Steele: | Anybody comes through that door, you give 'em two in the chest and one in the head. |