Black Legion
(1937)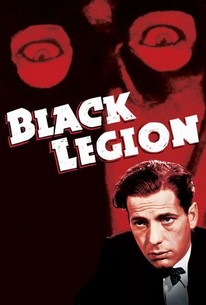 Movie Info
Though this brutal, gripping social drama is based on actual headlines from the 1930s, the story is still disturbingly relevant as it follows the descent of an embittered autoworker who gets involved with a deadly racist organization after a Polish immigrant receives the promotion he thought he deserved.
Critic Reviews for Black Legion
Audience Reviews for Black Legion
Not a great movie, but still an undeniably important piece of anti-fascist American cinema.
Alec Barniskis
Super Reviewer
This movie is a realistic, but boring drama about a man who joins the kkk because he looses his job and blames it on foreigners. He later realizes it was a bad idea when he kills his friend. It's a pretty simple story, and Bogart does give a good performance, but it's not all that interesting.
Black Legion is one of the 30s Warner Bros. movies that had to have been based off a newspaper or magazine article and played up with a heavy-handed but relevant message. The story's kind of silly in an exaggerated (even if it is just) way and Humphrey Bogart's acting is a bit hokey (although not as bad as the kid who played his son.) You're never going to find Black Legion on any essential Bogart list but It's not a bad watch considering he's not playing a gangster before he became a leading man.
Michael Gildea
Super Reviewer
Black Legion Quotes
There are no approved quotes yet for this movie.