Black or White
(2015)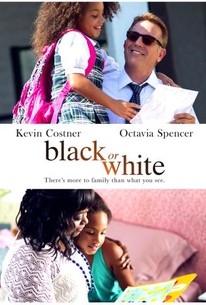 TOMATOMETER
AUDIENCE SCORE
Critic Consensus: Black or White has more on its mind than your average family drama, but the film's approach to its thought-provoking themes too often lives down to its title.
Movie Info
BLACK OR WHITE is the story of a grandfather (Academy Award (R) winner Kevin Costner) who is suddenly left to care for his beloved granddaughter. When her paternal grandmother (Academy Award (R) winner Octavia Spencer) seeks custody with the help of her brother (Anthony Mackie), the little girl is torn between two families who love her deeply. With the best intentions at heart, both families fight for what they feel is right and are soon forced to confront their true feelings about race, forgiveness, and understanding. Anchored by an all-star cast and based on real events, the movie is a look at two seemingly different worlds, in which nothing is as simple as black or white. (C) Relativity
Critic Reviews for Black or White
Audience Reviews for Black or White
½
This is a touching little family dramedy. This was a different part for Kevin Costner but he did a good job with it. The true star is the little girl, she is a great up and coming actress.
Jarrin Rozenblad
Super Reviewer
½
Combined review of Selma (2014) and Black or White (2014). It is this complex, complicated, and dire reality that hobbles another movie that tackles modern-day race relations, Mike Binder's imprudent Black or White. The plot of the film, inspired by a true story reportedly, centers on Kevin Costner as Elliot Anderson, a rich lawyer who has custody over his biracial granddaughter Eloise (the angelically adorable Jillian Estell). Now that Elliot has lot his wife, Eloise's other grandmother, Rowena Jeffers (Octavia Spencer), wants joint custody so Eloise can spend time around "her own people." The two of them push and pull and lock horns over what's best for their grandchild, which gets more complicated when her biological father (Andre Holland, who is actually in Selma as well) comes back into the picture. Right away you can tell very early on that there will not be anything approaching subtlety in the world of Black or White, its own title serving as the first clue. The characters are sketched broad and the premise feels like a weird mishmash of Archie Bunker appearing in a court drama. And because it ends up becoming a court drama, you know where a majority of its third act will be spent. It's a preachy movie that doesn't have a deft hand when it comes to crafting a message that rises above easy observations disguised as something deeper. Eloise's father, Reggie, is so poorly underwritten that he feels like he stepped off the set of some after school special. He's addicted to crack, a lifelong screw-up, and a general disappointment that has never been present for his daughter's life. He even smokes crack out in the open on the front porch across the street from where his mother lives. At one point, Anthony Mackie's character berates Reggie for being a walking stereotype. Just because Binder calls attention to it doesn't excuse it. But he's not alone, because Spencer's sassy black matriarch character and Costner's gruff and frequently soused character are right there with him. The frequent arguments feel like they should be punctuated by studio audience hoots and applause, that is, if you could hear them over Terrence Blanchard's relentlessly overpowering musical score instructing the audience exactly how to feel with every clunky moment. In a way, the overbearing musical score gets at the major problem of Black or White, which is that a complicated case is being told from the safest point of view. Elliot is more akin to Clint Eastwood's character from Gran Torino then, say, Archie Bunker. He's irritable and prejudiced and old-fashioned and wary but balks if you call him a bigot. I mean he's polite to his Hispanic housekeeper. The more you examine the character you more you realize this is a movie designed to coddle an older generation (my tiny theater was packed with patrons over 60). The movie doesn't challenge anybody and actually rewards Costner's character and his outdated viewpoints. The opening conflict over his refusal to share custody with Rowena makes no sense. She's an excellent grandmother, caring, nurturing, a fine role model as well for her perseverance and starting several small businesses out of her home. Not only that but Rowena is surrounded by a large family of relatives that adore Eloise. It's contrived that these two could not agree on shared custody when they both have much to offer the girl. The only way any of this works is if Reggie is somehow responsible for the death of Eloise's mom. Perhaps he introduced her to crack and she overdosed. Unfortunately, it's never explained in the slightest, and so Elliot's hostility for the entire Jeffers clan seems petulant, especially with the happiness of his granddaughter in the balance. Without better context, his rampant anger seems to be guilt-by-association overkill. To his credit, Rowena has a major and annoying blind spot when it comes to Reggie's stability as a parent. In fact he's so obviously still on drugs that her ongoing refusal to accept reality harms her character irreparably. I the end, Black or White isn't so much a film that about race relations as it is about privilege. Costner's would-be bigot doesn't have a problem with black people, just as long as those black people abide by his rules of conduct and expectation. It's the same kind of qualification he's never had to consider for himself, and one the intended audience will likewise miss. He comes from a wealthy position and Rowena and her family are likely lower middle class at best. He has a world of class privilege at his disposal that the loving Jeffers family does not, and because of that he feels they are less suited to raising little Eloise. Perhaps he's worried about Reggie re-entering her life, but what animates Eliot Anderson is spite. He's consumed with the overriding assumption that he must be right in all things. While the film draws many heavy-handed parallels between Reggie's drug abuse and Eliot's alcoholism, it clearly presents the both of them on completely different planes of judgment. One of them is ultimately redeemable and the other less so. Eliot's perspective is essentially he can provide more and therefore more has to be better, but his definition of more is a private school, a housekeeper, a tutor who is treated as a caricature of initiative. Rowena provides a large and loving support system, but apparently they are less valued in the eyes of Eliot. And if you needed any more of a clue that Eliot and his sense of privilege are the unbeknownst star of the movie, he gets to deliver the big speech at the end that Says Something Meaningful. It feels a bit odd that the one character that uses the N-word in the film (albeit there is context) is the one telling lower-class black families how to live. I don't doubt the sincerity of writer/director Mike Binder; I don't think he purposely made a film to make older primarily white Americans feel better about thinking what they do about these troublesome times. It's not a nefarious movie but it is misguided and will provide cover for a certain selection of audience members who wonder why nobody is asking the old white guys their opinions on modern race relations. Even overlooking this charge, Black or White is just overblown melodrama that has to constantly explain everything to you at all times and guide you through every strained point. Selma and Black or White are both aiming at hearts and minds, looking to add to the conversation on contemporary race relations, but only one of them works as both an eye-opening message of empathy and as an exceptionally made film itself. Nate's Grade: C
Nate Zoebl
Super Reviewer
Black or White Quotes
There are no approved quotes yet for this movie.