Black Panther
(2018)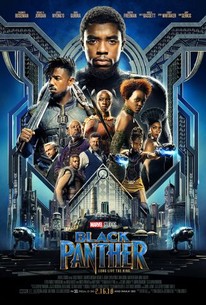 TOMATOMETER
AUDIENCE SCORE
Critic Consensus: Black Panther elevates superhero cinema to thrilling new heights while telling one of the MCU's most absorbing stories -- and introducing some of its most fully realized characters.
Movie Info
"Black Panther" follows T'Challa who, after the events of "Captain America: Civil War," returns home to the isolated, technologically advanced African nation of Wakanda to take his place as King. However, when an old enemy reappears on the radar, T'Challa's mettle as King and Black Panther is tested when he is drawn into a conflict that puts the entire fate of Wakanda and the world at risk.
Critic Reviews for Black Panther
Audience Reviews for Black Panther
t was about time we saw a Marvel superhero blockbuster starring mostly African-American actors and achieving the success and popularity that it did - and even better is how great it is, with a thrilling climax and relatable characters that compensate for a couple of flaws in the script.
Carlos Magalhães
Super Reviewer
Marvel's most unusual film of its Cinematic Universe is big on world-building, empowerment, strong (female) characters and jabs at the current state of the world. All that mixed with the ingredients of a blockbuster film, a great cast, good humorous timing and spectacular set pieces makes for a very entertaining ride that works as a standalone film as well as part of the bigger picture. Sure, some of the action scenes might have looked even better with stunt people instead of CGI fighters, but the wonderful production design more than makes up for it. The right movie at the right time and more proof that Marvel is far from being a one trick pony.
½
The Marvel Cinematic Universe has now been around for nearly a decade and not only has it matured as a franchise, but it has also evolved into something worth holding onto for generations to come. Sure, there are a few weak entries, but I don't think of this franchise as a series of movies anymore. This is a fantastic television series that's presented on the big screen a few times each year, that's had a few mediocre episodes along the way. Happily, Black Panther is their latest entry and not only is it far from mediocre, but it's easily the best film they've produced in quite some time. Look, I'm not going to sugar coat this review and call myself a fanboy who's blinded by the brand of Marvel. I genuinely thought this was a terrific entry and here's why. One of the best things about this film is that it stands on its own. Yes, seeing previous movies definitely elevates your experience, but it's been a long time since the Marvel Cinematic Universe released a movie that's not reliant on viewers having seen previous movies. That being said, Black Panther picks up not too long after the events of Captain America: Civil War. Don't let that be daunting to you or anyone who hasn't seen that film because this movie does a solid job at filling in the gaps without having to see that movie. The king of Wakanda has passed away and his son T'Challa has taken the mantle. With looming threats to have his throne stolen from him, he must take any precautions necessary in order to reign supreme. Quite honestly, unless you want this movie ruined for you, it's hard to expand on the premise itself, especially when it comes to the villain in Erik Killmonger. Everyone will want to discuss how well Chadwick Boseman fits into the role of T'Challa (Black Panther), but Michael B. Jordan is easily the highlight of this film. Once again, I'm not trying to let a highlight cloud my judgment of the movie as a whole, but the villain is honestly something remarkable here, especially for the standards that have been set by previous movies in this universe. His purpose for wishing to take down the titular hero will have you hating him and sympathizing with him all at the same time and that's when you know this character was created and presented with care. The interacting with Killmonger and the secondary character and the final few scenes that he and T'Challa get to spend together are honestly some of the best moments from any of these films in a very long time. Yes, I can admit that I loved this movie from start to finish, but I would be remiss if I didn't mention the few aspects that bothered me. Normally when I watch a movie, I never let CGI affect how I feel about a scene as a whole, but there were some noticeably cheap-looking effects here. Now, that's really all I have to complain about here because it didn't take away from anything. They're definitely noticeable, but I also found myself invested and tearing up during a couple of the final scenes, even though someone's body or a background looked fake, so I have nothing but incredible applause for Ryan Coogler and Joe Robert Cole on their fantastically written screenplay. In the end, superhero movies, in general, are hard to make these days, especially when many audience members seem to be growing weary of them. Personally, I think of this genre as any other genre. If you make a good film, then it's worthy of talking about, just as an indie drama that's up for Oscars is. This is a rich and wonderful world that's worth exploring. Superbly directed by Ryan Coogler, Black Panther is one of the best films in the Marvel Cinematic Universe and easily one of the best solo outings for a superhero. Has there ever been romantic comedy fatigue? No. Has there ever been horror film fatigue? No. People let themselves think they're having superhero movie fatigue because there are many of them made nowadays, but as I said, it doesn't matter if people have powers. A great movie is a great movie if you have a story worth telling, and Black Panther proves that statement tenfold. I can't recommend checking this film out enough. For comics fans and average moviegoers alike, I feel as though this will be a movie long-discussed.
Black Panther Quotes
There are no approved quotes yet for this movie.