Black Robe
(1991)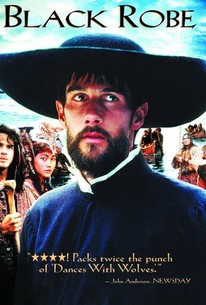 Movie Info
Missionary Father Laforgue travels to the New World in hopes of converting Algonquin Indians to Catholicism. Accepted, though warily, by the Indians, Laforgue travels with the Indians using his strict Catholic rules and ideals to try and impose his religion.
Critic Reviews for Black Robe
All Critics (12) | Top Critics (2) | Fresh (11) | Rotten (1)
Black Robe is a film of enormous interest for those who care about the early history of Europeans in North America, but for ordinary moviegoers it will be very tough going.

This compelling tale of adventure set in 17th century Canada is a spiritual classic
Audience Reviews for Black Robe
"Black Robe," the 1991 film directed by Bruce Beresford starts off wonderfully until it drifts into a completely different film about an hour into it. What started off as two very different cultures trying to understand each other bounded by trade is muddied and in the process becomes an uneven mess. The most interesting aspects of the film are demonstrated by the French and Natives trying to understand each other's concept of religion and had that been the whole picture it could've stood out as a great picture with beautiful cinematography. But, it seemed like they couldn't expand that idea and threw in tribal warfare out of fear audiences would get bored. Once the filmmakers threw that in was the minute I got bored with it. It's worth seeing just for the first hour.
Joseph Boomhower
Super Reviewer
Beautiful scenic photography of the area in and around Ontario. I love historical based movies, so I very much enjoyed this. A jesuit priest travels to the Americas from France to "save" the savages from themselves. Interesting subject, because this perspective seems more the reality than what we've been taught in school. May be a little slow for some, but the story is engaging, and the acting and directing is of high calibur.
Cynthia S.
Super Reviewer
½
Often simply too pat to enjoy, and all the ending manages to accomplish is closing the film.
Dillon Lupky
Super Reviewer
Black Robe Quotes
There are no approved quotes yet for this movie.