Black Snake Moan
(2007)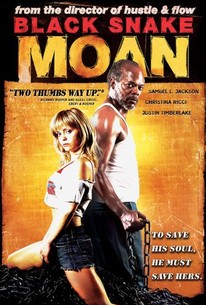 TOMATOMETER
AUDIENCE SCORE
Critic Consensus: Uninhibited performances, skillful direction, and a killer blues soundtrack elevate Black Snake Moan beyond its outlandish premise.
Movie Info
When a weathered, God-fearing ex-blues musician finds the town nymphomaniac severely beaten and left for dead on the side of the road, he vows to cure her of her wicked ways in Hustle & Flow director Craig Brewer's raw and unflinching follow-up. Lazarus (Samuel L. Jackson) is a hard-living ex-blues guitarist for whom the troubled days are beginning to outnumber the good. Rae (Christina Ricci) is a 22-year-old sex addict whose wild ways are finally about to catch up with her. When Lazarus discovers Rae covered in dust and clinging to life on the side of the road, he takes her in and nurses her back to health; but Lazarus isn't your typical caregiver, he's more concerned for Rae's immortal soul than he is for her physical well-being. Now, after chaining Rae down and employing the power of the Good Book to curb the salacious seductress' hedonistic ways, Lazarus will be forced to confront his own darkest demons in order to save the soul of a woman whose one-way ticket to hell has already been paid in full. Now, as Lazarus wages a righteous struggle to redeem the soul of the fallen Rae while simultaneously ensuring that his own life hasn't been lived in vain, the situation threatens to explode as Rae's possessive boyfriend, Ronnie (Justin Timberlake) -- a roughneck Guardsman currently preparing for a tour of duty in Iraq -- comes searching for his missing lover. ~ Jason Buchanan, Rovi
Critic Reviews for Black Snake Moan
Audience Reviews for Black Snake Moan
Daniel J DeMersseman
Super Reviewer
What a completely ridiculous premise this movie has... and although it starts off as kind of intriguing and interesting because you don't know where the plot is going with it, turns out not much really. All of these tortured souls so to speak go way over the top and there's times where I simply was bored because the movie spends way too long on some of the uninteresting characters & aspects of the story. Especially Justin Timberlake's character, which was way underdeveloped and seemed tacked on. He simply wasn't good. Samuel L. Jackson practically carries the movie by himself. He's solid and his singing is actually pretty good. Christina Ricci doesn't really have much to do other than look like she wants to bang everything in sight, which I guess she does well. The blues soundtrack to this is nice, but some of it they could have done without. I feel like 30 minutes could have been cut out of this film and nothing would have changed. If not for Jackson, it would have been a waste of time. With him, it's alright but could have been much better.
Josh Lewis
Super Reviewer
½
Black Snake Moan is one of those films that had the potential of being a great film, but I felt it fell quite short. For me, this was a film that was quite hard to get into, and it simply didn't deliver. The performances were quite good, but overall this was a decent affair with a plot that was interesting, but was quite eccentric. Christina Ricci and Samuel L. Jackson have good chemistry here, and it's the film's highpoint. However the film's low point is the pacing of the film, I felt that though it had it an interesting plot, the picture moved too slowly. Films that tell a captivating plot and are well paced are good to watch. However Black Snake Moan just didn't have the fire to keep you involved from start to finish. The performances were good and the plot was well thought out, but at the same time, this was a tiresome affair. I felt that the film could have been much better and that director Craig Brewer could have rewritten the script at least a few times to really give the film its just due. This could have been a stellar picture, but it was plagued by too many lows and it just ended up being a decent flick at best. Black Snake Moan is not a film that warrants multiple viewings, and despite the cast and interesting concept, I was disappointed with the final result. Samuel L. Jackson saved the film from being a total bore fest and he really commanded the screen in his performance. If only the ideas could have been thought out slightly better, then I think this would have for a truly compelling feature that would have surely been a great and memorable piece of cinema. Alas the result is an underwhelming movie that leaves a lot to be desired in terms of substance to its plot.
Black Snake Moan Quotes
| | |
| --- | --- |
| Rae: | Why you old men gotta talk so much? You gotta talk yourself into fuckin' me? Like little boys. It's okay. I'm grown, I know. We can go slow. |
| Rae: | (beat) Are you gonna give me another bath? |
| | |
| --- | --- |
| Rae: | I think... I think we're all fucked up. I know I am. But that don't mean what I feel ain't real, that I can't love somebody. And I know what I've done is real real bad, but um... |
| Rae: | (pause) So if you wanna quit on me that I understand. But please don't. |
| | |
| --- | --- |
| Lazarus Woods: | God put you in my path and I aim to cure you of your wicked ways. |
| | |
| --- | --- |
| Lazarus Woods: | Collar your dog! |